Honoring Asian American and Pacific Islander Heritage Month
May is Asian American and Pacific Islander Heritage Month, a time to honor and recognize the unique cultural experiences and contributions of Asian and Pacific Islander Americans. We're dedicated to building a fairer, more inclusive world where everyone is empowered to tell their stories, starting with our own people. Join us all month long for stories from associates and teams honoring Asian American and Pacific Islander Heritage Month.
Jomar Francisco | University of Illinois Chicago
Jomar Francisco, marketing manager at the University of Illinois Chicago, joins us in front of the camera to share his experience as a Filipino-American. He discusses his family, artistic talent, and passion for food while reflecting on Asian American and Pacific Islander Month.
"I am proud to be Asian American. Filipinos are very open people, we are very welcoming people, we say, "hi" to almost everybody, and learning and growing up with that has definitely helped me become who I am today.
I knew I wanted to do something within food, I am also very creative, I come from a long line of artists from my family, and I wanted to mix both of my passions together.
Asian American and Pacific Islander Heritage Month means everything to me. I believe it's very important to uplift our communities, to hear the stories of our ancestors, and to hear about other people's cultures. I believe it is very important to educate and to be educated about other communities. I think it reminds all of us how special we are."
---
Benjamin Hom | Senior Cook at San Jose State University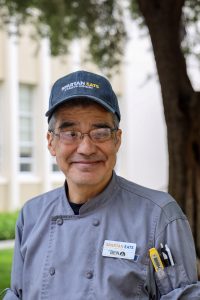 "I'm the adopted son of a Japanese mother and a Chinese American father, who have both unfortunately passed away. During AAPI Heritage Month, I'm honoring my heritage and looking back at the cultural traditions that my parents and I followed. My family celebrated a blend of Japanese and Chinese traditions, like Chinese and Japanese New Year's. Food was always a big part of those traditions, and we always made unique dishes just for the holidays. We only had those dishes once a year, so they always felt extra special. Another tradition was to deep clean the house and do all our laundry before the new year, to purify our home.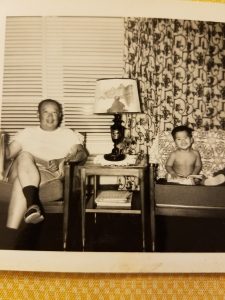 Our everyday meals were very multicultural, too. Both my parents really liked to cook, and my dad would usually make stew, pork chops with sauerkraut, corned beef and cabbage, and other meals. My mom would make Japanese and Chinese food. My favorite food is meatballs with eggplant and white onions, and when we would cook it, you could smell it all throughout the house. I still keep a lot of the recipes that my parents would make.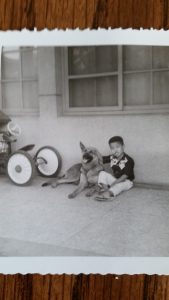 Since my parents loved to cook, two of my most treasured items are pieces of cooking equipment that my parents used: a cast iron skillet from my father and a bonito shaver from my mother. Those items bring back memories from when I would watch my parents cook as a child, and I still use that cast iron skillet a lot.
My parents and my cultural heritage were huge influences in my life. My mom and dad would always tell me to remember where I came from, and that always made me feel proud of my background. I'm also lucky to live in such a multicultural and diverse area, and whenever I attend one of the cultural festivals here in the Bay Area, I get to celebrate my background and heritage.
I started working with Chartwells when I first came to San Jose State, and my first job here was as a donut and muffin maker at Spartan Shops. Then I worked at several places across campus, from the Pub to Sbarros, all in food service positions with Chartwells. Now I'm a senior cook, where I get to work with my fellow student employees and train them as best as I can.
I'm proud to share my personal cultural experiences with everyone during Asian American and Pacific Islander Heritage Month. I'm always happy to share about my culture, and likewise, I love to learn about different cultures too. People can learn a lot from the stories and cuisine that each community has to offer."
---
An Asian-Inspired Teaching Kitchen | UChicago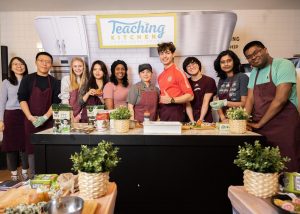 The UChicago team taught students how to handroll their own sushi while also promoting this month's Feel Good Food, seaweed. The team put together a Teaching Kitchen hosted by Asiana Foodville and their campus registered dietitian, Sheree Ledwell.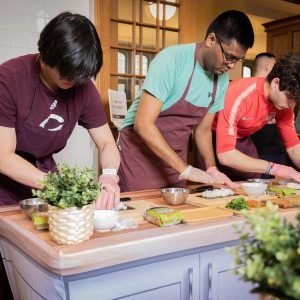 During the Teaching Kitchen, students experimented with a wide range of sushi fillings while also learning about how seaweed has anti-inflammatory benefits and helps support heart health.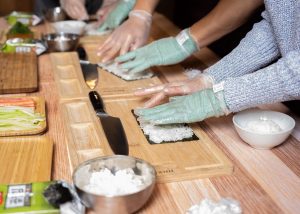 The Teaching Kitchen is one of many collaborations with Asiana Foodville. We also partner with Asiana Foodville to stock several Grab and Go sushi products at a wide range of retail locations all across UChicago's campus.
---
Chef Roy Choi Arrives on Campus | San Jose State University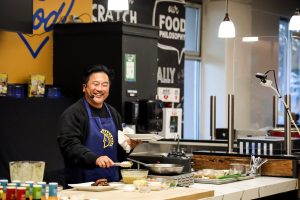 Celebrity Chef Roy Choi came to San Jose State University to meet and educate students. Our associates worked with the Center for Asian Pacific Islander Student Empowerment, Student Affairs, and Associated Students to host the event.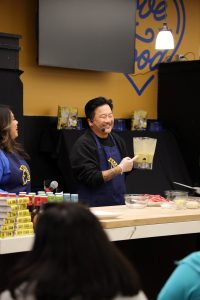 Chef Roy is well-known for his unique and innovative fusion foods, which blend Korean and Mexican cuisine. He is also well-known for pioneering the gourmet food truck scene and for running several of his own food trucks.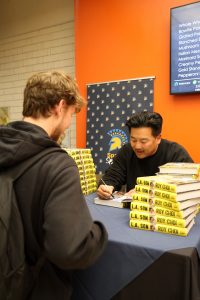 During Chef Roy's visit, he led a cooking demonstration of his famous galbi recipe, which students got to sample afterward. He also shared tips and tricks in a Q&A session and gave away free signed books of his cookbook, L.A. Son: My Life, My City, My Food.
---
Taste of Asia Event | University of Illinois Chicago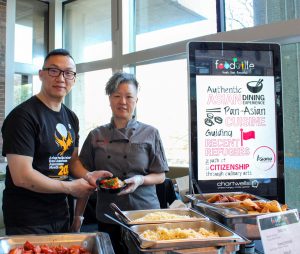 The UIC dining team partnered with the UIC Center for Student Involvement, the Asian American Resource and Cultural Center, and Foodville to bring students together for a food-focused AAPI Heritage Month celebration!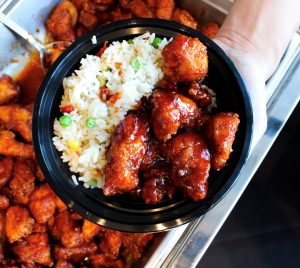 The team worked with Eunjin Lee and Jason Lee, the chefs and owners of Foodville, a local and minority-owned business. Students enjoyed authentic Pan-Asian flavors like butter chicken, mango lassis, veggie fried rice, and more dishes that showcased the full range of Asian American and Desi American cuisine.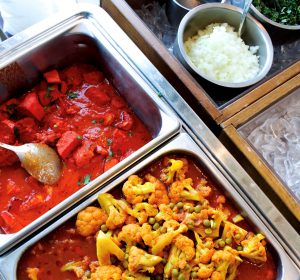 ---
AAPI Heritage Celebration | University of Chicago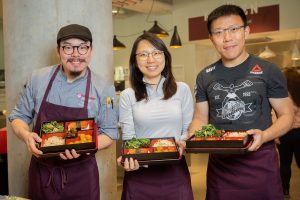 At the University of Chicago, our team celebrated AAPI Heritage Month with an amazing event complete with hot wings, an energetic Mongolian dance lesson, and an educational bento box Teaching Kitchen.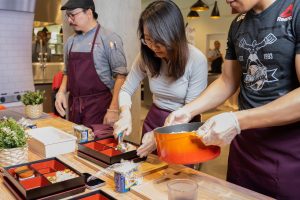 Chef Thai Dang and the Dang Good Wings team took over one of the UChicago dining stations with fried chicken dishes and sauces inspired by Asian cuisines, such as caramelized fish sauce and Thai buffalo sauce.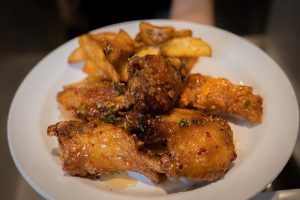 Professor Marie Jiang of the School of the Art Institute of Chicago helped guide our students through a traditional Mongolian dance, while Asiana Foodville hosted a Teaching Kitchen and shared tips to build bento boxes. Thank you to all the partners who made the event a success!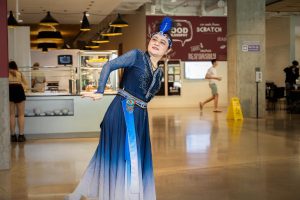 ---
APIDA Heritage Celebration | Northwestern University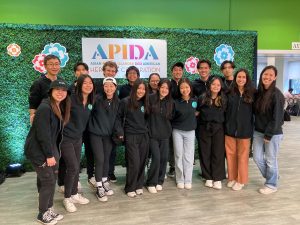 Northwestern rounded out APIDA Heritage Month with a massive event that included partnerships with on-campus student organizations. Our team created a delicious custom menu with dishes from all across Asia, including Japchae, Long Bean and Eggplant Adobo, Watermelon Poke, Beef Pho, Spring Rolls and Indian Spice Pizza.
The Filipino Student Association, Kaibigan, provided the desserts. They set up a booth to make halo, a Filipino shaved ice dessert. The Vietnamese Student Associate also gave out authentic Asian treats and hosted dice and card games. Students also enjoyed savory Masala Chai Tea from Chicago's Chiya Chai.
K-Dance, NU's student-led k-pop dance group, offered stickers and photocard sleeves for guests to make their own photocards. The Trebelmakers acapella group captivated the audience with their talented musical arrangements.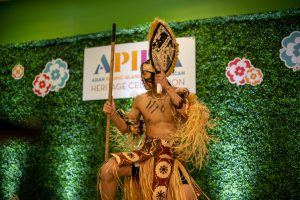 The event finished off with a dance performance from Aloha Chicago, who showcased Polynesian dances from all over the Pacific Islands.
---
Check back all this month as we add more AAPI Heritage Month stories.