Chartwells Higher Education Highlights Inspirational Associates
Every day, our talented teams make the dining experience better for their campus communities. Whether they're helping student-athletes find the right diet plan or growing our catering program, they're bringing joy to their guests.
Many associates were recently honored by our clients. We're proud to share their accomplishments below: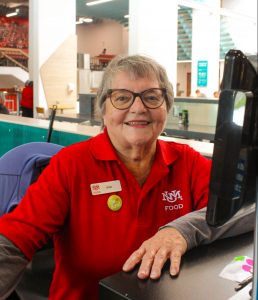 Miss Shirley | University of New Mexico | Shirley Award for Excellent Customer Service
After 16 years of service at the University of New Mexico, our greeter Shirley Tataglia is getting ready to retire and leave on a new adventure. For years, Shirley has been the first face students see when they walk into La Posada dining hall. Her kindness made La Posada a home away from home for students, and she even goes the extra mile by memorizing thousands of names when she greets students.
In recognition of Miss Shirley's incredible impact on campus dining, the UNM Housing Department has created the annual "Shirley Award for Excellent Customer Service" in her honor. Students also created a giant card showing their gratitude for Shirley and gifted it to her. Thank you so much for taking care of your community so well, Miss Shirley! We wish you the best.
Chef Peter Hodgson | University of Utah | Chef Educator of the Year
Executive Chef Peter Hodgson was recently awarded the Chef Educator of the Year award from the ACF Beehive Chefs Association for being an exceptional mentor to aspiring culinarians. For years, he has worked in a program called ProStart to help high school culinary students to start their professional careers as chefs. He has been a go-to resource for these young chefs and helps them grow their knowledge, skills, and expertise. Clearly, Chef Hodgson is not just a great chef but also a great mentor and leader!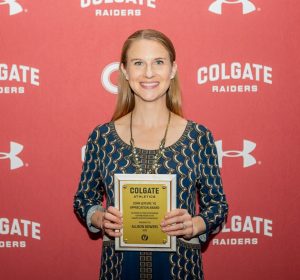 Allison Bowers | Colgate University | John Lefevre '41 Athletic Appreciation Award 
All the student-athletes at Colgate University know and love Allison Bowers, our registered dietitian! Her office is constantly filled with student-athletes seeking her guidance on what and how to eat. Allison also works closely with the athletics teams to help each team reach their food, athletic, and lifestyle goals.
Allison also helps the athletics staff handle programming and has recently started holding office hours in Reid Athletic Center. In recognition of all her work with student-athletes, she was honored with the John LeFevre '41 Appreciation Award by the Department of Physical Education, Recreation, and Athletics. Thank you for all that you do!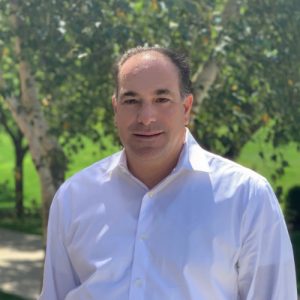 Mark Tammone | Sacred Heart University | 32nd Annual Campus Life Leadership Award
Mark Tammone, the Resident District Manager at Sacred Heart University, made history recently when he won the 32nd Annual Campus Life Leadership Award. This award is given out to student leaders, faculty, and staff for outstanding dedication and contributions to the Sacred Heart University community. Mark's achievement was the first time a non-SHU employee had received this award in over 32 years. Mark is a role model on SHU campus and has an incredible passion for working with students. Congratulations, Mark!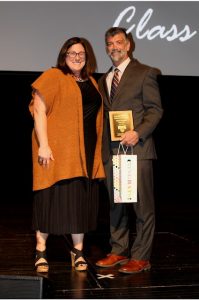 Buffalo State Dining | Meritorious Award, Golden Bengal Service Award
The Buffalo State Dining team was honored with two awards for their commitment to their campus partnerships. The team first received the Meritorious Award from the United Students Government for their exemplary support of USG and the student experience. The team was also awarded the Golden Bengal Service Award from the Department of Athletics for their long-lasting support of the athletic department. Resident District Manager Glenn Bucello accepted both awards on behalf of the team.
Both awards demonstrate how the Buffalo State Dining team is willing to give back to their community. We're so happy to see our associates investing in their campus partnerships. Congratulations!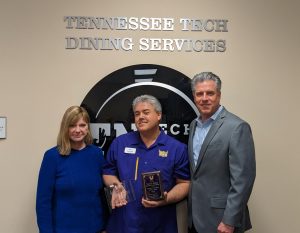 Victor Kline | Tennessee Tech | Campus Partner of the Year, Wings of Kindness
Victor Kline is leading the catering team at Tennesee Tech to new heights. He recently received the Campus Partner of the Year award from the Student Affairs Department for going above and beyond to increase catering quality on campus. In addition, he was also honored with the Wings of Kindness award from Tennessee Tech First Lady Kari Oldham, in recognition of his exemplary customer service. He has established partnerships and increased catering sales, all with a smile. We admire Victor for his motto of "The answer is YES, what is the question?"
---
Congratulations to all of the winners! Thank you for your hard work and dedication to spreading joy through food.