Honoring Arab American Heritage Month
April is Arab American History Month, a time to honor and recognize the unique cultural experiences and contributions of Arab Americans. We're devoted to working towards a more equitable world where we hope to empower our associates to share their stories and honor their most sacred traditions. Join us all month long while we spotlight stories from teams and associates celebrating Arab American Heritage Month. 
---
Chef Khalid Atti | Northeastern University 
"I was raised in Morocco in a city named Mohammedia; it's a small city off the Atlantic Coast and known as the City of Flowers. My mother, father, and sister still live there, and I have another sister who lives in Switzerland.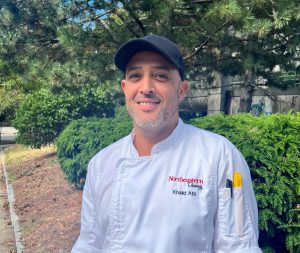 When I came to the United States, I realized that most people don't know where Morocco is. I always hear people say, "Oh, Morocco is in the Middle East, right?" But it's actually in Northern Africa.
I would love for people to know that Moroccan people are very open-minded and have a deep cultural history. We welcome visitors with open arms, and Moroccan culture taught me to be kind and respectful toward others. Right now, it's the holy month of Ramadan, where we fast from sunup to sundown, and this has made me a stronger, more disciplined person in life.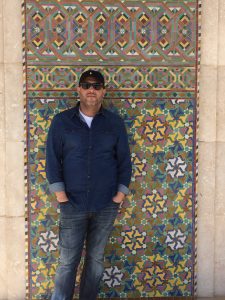 In Morocco, we have a wide range of amazing, delicious cuisines and traditions based around food. One of my favorite traditions takes place on Eid al-Adha, which is also called the Feast of Sacrifice. On this holiday, families get together to slaughter a sheep and have a giant barbeque. We share all the meat and have a huge feast with all the families we know.
I highly recommend that everyone try Moroccan food sometime. One of my favorite foods is couscous, and when I go back home, my mom always makes this dish for me. I also recommend trying rfisa, which is a dish made with shredded msemmen (a Moroccan flatbread), lentils, and chicken. We eat together as a family from a large dish filled with fresh bread. All three meals are eaten in this fashion.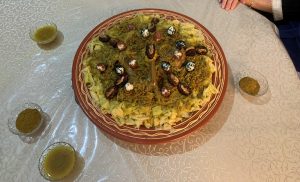 During my childhood, I spent a lot of time playing soccer and basketball, listening to Arabic music, watching Bollywood movies, and watching my mom cook in the kitchen. I developed a deep love for food, and after I moved to the United States for college, I worked in many different restaurants. My first job in the US was cooking in a Lebanese restaurant. That's when I realized that cooking was what I wanted to do for a living.
I've worked in a wide range of businesses, from pizza restaurants to hotel kitchens. My career journey took me to Chartwells and Northeastern University. That's when I realized that Chartwells was the perfect place for me to hone my skills and become a better chef.
I am very proud to celebrate my heritage and share stories about my childhood and culture. I am proud to be from Morocco and to call the United States my home."
---
Chef Edwin Eliazad | Cal State University, Stanislaus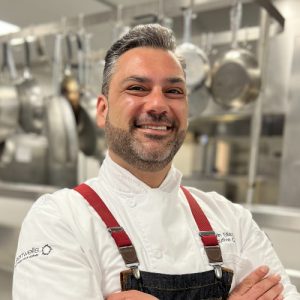 "I was born and raised in Turlock, California, where my parents moved in the late 70s. My family has a long, rich, and  resilient Assyrian heritage that I'm proud to celebrate during Arab American Heritage Month.
The Assyrian community has a long history that goes back thousands of years, all the way back to ancient Mesopotamia. But in modern times, Assyria has faced a lot of struggles. Most Assyrians were pushed out of their homeland by historic and modern-day tragedies, and now they often live in other countries.
Despite being scattered across the world, we're preserving our history and heritage through holidays like Assyrian New Year on April 1st, which my family and I celebrate. In addition, I also love going to Assyrian food festivals to try out authentic recipes and meals. And on August 7th, we observe Assyrian Martyr Day to remember those who came before us and sacrificed their lives.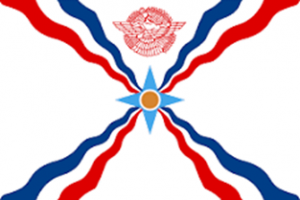 One thing that I really treasure is the Assyrian flag, which is full of rich symbolism about Assyria's geography. The dark blue wavy lines on the flag represent the Euphrates, and the red stripes, which are blood-red for courage, glory, and pride, represent the Tigris. The white lines between the two great rivers symbolize the Great Zab River; the white color stands for tranquility and peace. The golden circle at the center symbolizes the sun.
I'm also very passionate about cooking, and I first learned to cook when I was 12. I love Persian cuisine, and I especially love making kabobs. Ever since I first started cooking as a little kid, I knew I wanted to be a chef! I followed my dreams by going to CCA (California Culinary Academy) right after high school.
After CCA, I went on to work in a lot of different food service roles across Orange County, San Francisco, and Napa, among other places. I first joined Chartwells in July 2021, when I became the Executive Chef at CSU Stanislaus. Bobby Flay was a big influence on me when I was learning how to cook, and I'd love to challenge him one day!
I think that my culture has taught me to appreciate other people and cultures, no matter how unique. I've also learned to value my relationships, whether they are with family, relatives, or friends. These are lifelong friendships that are passed down from generation to generation."