Celebrating Our Favorite Day of the Year – Stop Food Waste Day!
Stop Food Waste Day is our annual day of impact that is celebrated internationally and aims to raise awareness about the global issue of food waste on the environment. Its primary focus is on reducing waste at its source, and our chefs and creative culinarians across the country are dedicated to the cause.
Join us as we look back on Stop Food Waste Day and celebrate the unique ways our campuses are making an impact:
---
Delicious, Nutritious, and Zero-Waste Meals | University of Miami
Peels and trimmings represent a large amount of food waste. The University of Miami showed us that all parts of produce can be used. For Stop Food Waste Day, they utilized every part of their bananas to make a delicious dessert and entree and encourage guests to rethink the way they approach leftover food scraps.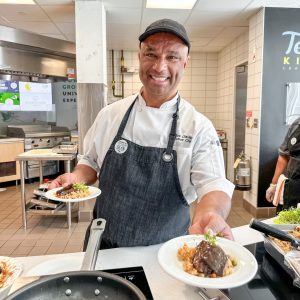 The banana puddings were made traditionally and produced leftover banana peels. Throwing away the peels would be a waste of vitamins, protein, fiber, and other important nutrients. Chef Carlos reimagined the leftover peels in an innovative and delicious banana peel tapas dish. His dish showed us that ingredients that are usually thrown away without a thought can always be used.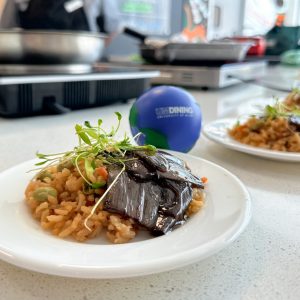 ---
A Sustainable Menu | Stockton University
Sustainable foods were on the menu at Stockton University. The Stockton Dining team honored Stop Food Waste Day with a special menu focused on using ingredients to their fullest and repurposing food to avoid waste.
Students tried everything from carrot top pesto to chicken tortilla and broccoli cheddar soup. During the meal, the team also shared tips and tricks about preventing food waste, shared stickers, and encouraged students to sign a pledge board.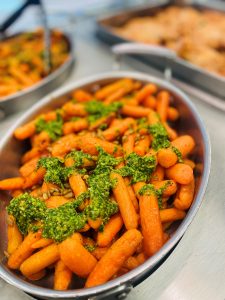 ---
Turning Food Waste into Compost | Southeast Missouri State University
The SEMO Dining team is turning their leftover food waste into compost in partnership with the University Greenhouse. From February 2022 to April 2023, the SEO Dining team sent 47% of their waste to University Greenhouse to be turned into compost.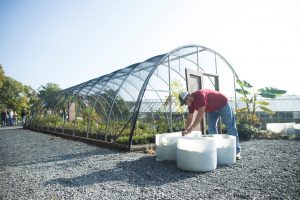 The compost then nourishes new produce and supports the university's greenhouse and the environment, instead of contributing to greenhouse gases in a landfill. The partnership has saved over 2.3 tons of food!
---
End of Year Splash Event | University of Massachusetts Dartmouth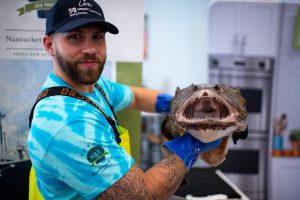 UMass Dartmouth students celebrated the end of the year with an event focused on educating, promoting, and uplifting sustainable seafood choices. The UMass team hosted the event in partnership with M&B Sea Products, a local and sustainable fishery, to discuss underutilized fish and sustainable seafood choices that produce less food waste.
The fishing supply chain includes many steps, from catching and packaging to transportation and cooking. Each step produces waste. Popular fish species like tuna and salmon are often overfished and processed just to be thrown away at the end of the meal. Fishes like haddock, redfish, and monkfish are often produced more sustainably than more mainstream seafood options and represent an opportunity to decrease food waste, but they are less well-known.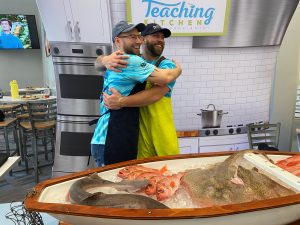 To educate our guests on sustainable seafood choices that reduce overfishing and food waste, M&B Sea Products caught a wide range of underutilized fish that our chefs cooked up. Our culinarians demonstrated how to make a sustainable redfish fish cake in a Teaching Kitchen.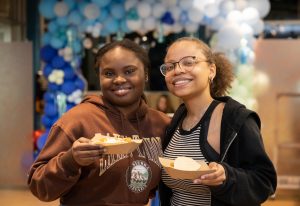 ---
A Dinner Grown from Hydroponics | University of Miami
The University of Miami dining team partnered with the Electrical and Engineering Department to use basil that was grown from hydroponics. Hydroponics is a technique of growing plants in a water-based nutrient solution instead of traditional soil. Because no soil is needed, hydroponics requires less land, energy, and water and produces a higher yield with fewer resources.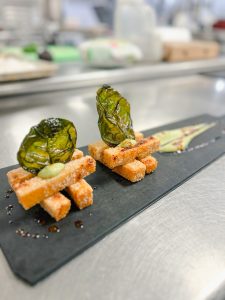 Our chefs highlighted the hydroponically grown basil in several events and dishes. Chef Scot hosted a Teaching Kitchen and taught us how to make Greek chopped salad and a fresh basil vinaigrette. Later that evening, Chef Alonso led another Teaching Kitchen for vegan polenta fries with vegan basil aioli and chili oil.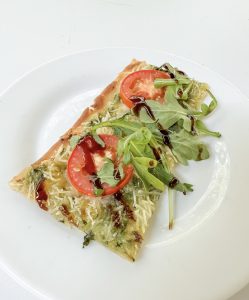 The hydroponic basil also showed up in various dishes on our menus! The basil was a star ingredient in our Caprese flatbread and our pesto and tomato grilled cheese. The meal was a hit with students and demonstrated how sustainable eating is something we can all accomplish.
---
Repurposing Scraps for Furry Friends | Stetson University
At Stetson University, our associates put food scraps to good use by feeding four-legged friends. The team partnered with Bow Wow Chow, a new volunteer-led initiative on campus, to collect over 80 quarts of food waste. Bow Wow Chow turns into nutritious, healthy, and balanced meals for shelter dogs!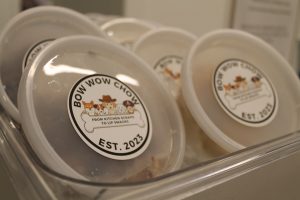 The team at Bow Wow Chow uses the latest culinary techniques to select the finest canine-friendly ingredients, and they follow strong food safety standards when batch-cooking dog food. Bow Wow Chow then sends the dog food free of charge to the local shelter. By reusing back-of-house waste, we can ensure that shelter pups receive healthy and delicious meals while our kitchens stay sustainable.
---
Feeding All Kinds | Florida Gulf Coast University
The team at Florida Gulf Coast University has partnered with a local professor to feed guests we've never served before: farm pigs. The pigs at the local Fraser Family Farm consume all pre-consumer waste, which includes produce scraps, vegetable trimmings, and more. The FGCU team has been delivering over 1000 pounds of waste every week for the past seven years—that's several tons of food waste diverted away from landfills.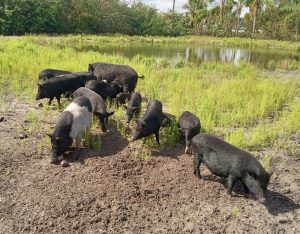 Food waste breaks down into powerful greenhouse gases and hurts our planet. It also represents a waste of the time, energy, fuel, and money required to produce food. Sending waste to the farm is a win-win for all parties involved: we can help the environment, and the local farm can feed their pigs. Fun fact: the pigs' favorite food is quinoa.
---
Hosting Sustainable Dinners | Carnegie Mellon University 
Chef Dominic at Carnegie Mellon University educated students on the potential of food scraps. He hosted a six-course Reducing Your Carbon Footprint Dinner with dishes made from food that ordinarily would have gone to waste, teaching students how they can prevent food waste.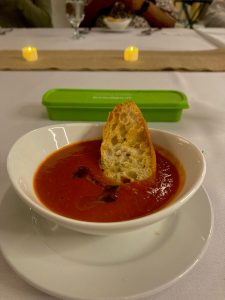 Chef Dominic's custom menu included a mushroom and tofu tower made with sustainably foraged mushrooms from Real Fungi Pittsburgh, a honey pot pudding made with honey from Apoidea Apiary, and more. The star of the meal was his Tail End Bisque, which was made with ingredients from each of the five other dishes. He used vegetable trimmings from bell peppers, zucchini, squash, onions, and tomatoes to make his own vegetable stock for a true no-waste recipe.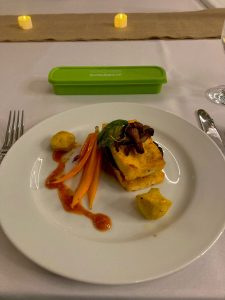 Chef Dominic's Tail End Bisque Recipe:
Ingredients:
Fire-roasted tomato scraps
Zucchini scraps
Squash scraps
Onion scraps
Roasted red pepper scraps
Garlic Cloves
Heavy Cream
Salt and Pepper
Method:
Instead of using canned items, take leftover trimmings consisting of bell peppers, zucchini, squash, onions, and tomatoes and add them to a stock pot.
Covered vegetables with water, and bring them to a simmer to extract the vegetable flavors.
Strain stock.
After trimming the peppers and tomatoes, toss them with garlic cloves and vegetable oil, and roast them off.
Add all of the roasted vegetables to the pot with the stock, simmer, and let the flavors come together.
Add in heavy cream.
Use Agar Agar to thicken my soup instead of the traditional roux if you want to keep it vegan.
---
Reinventing The Crawfish Boil | Louisiana State University 
For Stop Food Waste Day, the team at Louisiana State University put their own spin on a traditional crawfish boil. They hosted a hands-on Teaching Kitchen to show students how a little imaginative thinking can reduce food waste and create new, delicious dishes.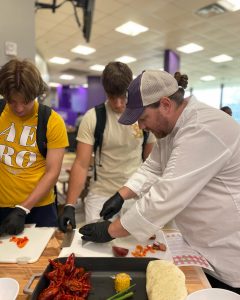 Ingredients like potatoes, corn, sausage, and crawfish that are left over after a crawfish boil don't have to be thrown away. Instead, these leftovers can be repurposed for another dish. Our chefs taught students how to make crawfish boil quesadillas using leftovers for a delicious, mouthwatering dish that has all the flavors of a typical Louisiana crawfish boil. The team showed that there's always an opportunity to turn old leftovers into something new.
---
On Stop Food Waste Day, our teams found ways to overcome common barriers to food waste prevention and protect our planet. Our associates united with their local farms and organizations to reduce food waste, launch new initiatives, and lower carbon footprints.