Plant-Forward with Root for You
The story of Root for You began over a year ago as an idea from one of our chefs and one of our marketers. The thought was to transition one of our dining locations into our first-ever all plant-based food hall. The task seemed daunting and we were cautious– did animal proteins need to be included to keep our students happy? Would an all plant-based dining hall serve our vegetarian and non-vegetarian populations equally? Our regional chef, Keith Gramlich, thought it could. Not only did he believe in the dream, but built a team to develop it into reality.
This idea came to life at Colgate University with Root for You – a collaboration with our team to create an entire food hall menu consisting entirely of plant-based ingredients. 10 stations were transitioned for one day only, including a "Vegetable Butcher Shop," Pom + Honey, Tu Taco, Back Bar Grill, and more to feature dishes like vegan cauliflower ribs, vegan ice cream, vegetarian tacos, vegan PAOW pepperoni pizza, and much more. Every station was converted to be completely plant-forward, while also keeping true to what the stations typically served.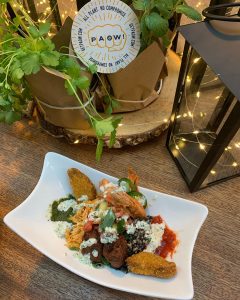 "Please make at least one station permanent! It was a vegetarian dream!" said one of our students. The feedback was overwhelmingly positive – as students and clients alike raved about the partnership with Future Food Enterprises LLC. While vegan and vegetarian options have always been a staple on campus, Executive Chef Damian has made some of the more popular dishes from the event more readily available to students.  In addition, Chef Keith is taking the show on the road and plant-based food hall takeovers are popping up at other locations like St. John's University and Northeastern University.
Recently, Chef Damian had the opportunity to do a live cooking demo on Bridge Street – a popular public television channel – to talk about plant-based foods at Colgate University, Root for You, and how delicious plant-based foods can be while demoing how to create a plant-based burger. He did a wonderful job conveying student love for plant-based foods and how Colgate University is developing an even more plant-focused program. That interview can be viewed here.