10 Unique Ways Our Campuses are Celebrating Earth Day
At Chartwells Higher Ed, sourcing responsibly is part of our culinary philosophy. While we put a focus on building sustainable initiatives and growing our waste-not culture all year round, we wanted to highlight some of the ways our creative campuses are celebrating the 51st annual Earth Day.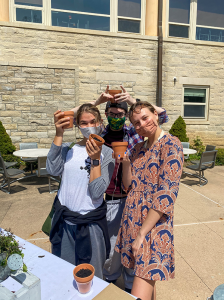 1. Grow Kits + Potted Parties | Manhattanville College
Manhattanville Dining celebrated outdoors during a beautiful sunny day. Guests were invited to plant their own seedlings, and the team also provided mint and cucumber-infused water at the event. "I was so stressed all day, and this really made my day better," a college faculty member told our team. Campuses across the country are showcasing their innovation with planted herb kits – some pairing things like marinara sauce with their DIY basil kits for students to build upon.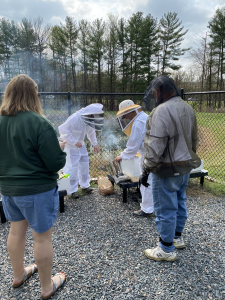 2. Honeybee Partnerships | University of North Carolina, Charlotte
The UNC Charlotte Dining team was able to begin a new bee keeping program in partnership with the university and Sustainability Specialist, Lindsay Klingenschmidt. The campus recently welcomed 1,000 new resident honeybees on campus. The partnership between Dining and Auxiliary Services will support the growth of nutritious food and has also been added into multiple academic curriculums on campus, which delivers a direct education opportunity back to our student communities.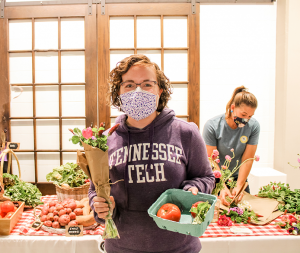 3. Farmers Markets | Tennessee Tech
Tennessee Tech kicked off a Mini Farmers Market Series that will take place all of Earth Week! Our dining teams partnered with local farmers including Petal and Rake, Kaurel Mountain Bread Company, among others to feature local produce, flowers, eggs, bread, and honey for students to purchase right in their food hall!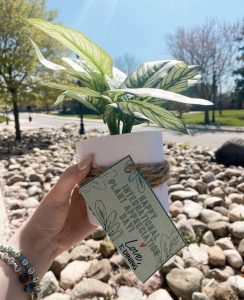 4. Plant Scavenger Hunts | Eastern Michigan University
Our creative team at Eastern Michigan University created a plant scavenger hunt for their students in which they hid a variety of plants across campus and offered hints and clues on their Instagram stories to help their campus community locate them.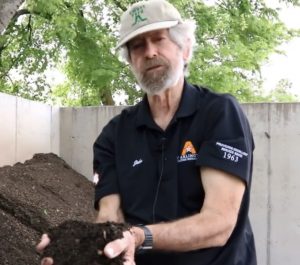 5. Composting Initiatives | University of Texas at Arlington
Mustang Dining at the University of Texas at Arlington partners with the Office of Sustainability to support composting of their dining program. For Earth Month, they hosted a Virtual Compost Tour with their Campus Composter, John Darling. John works to turn the kitchen scraps from our venues into compost for sustainable campus landscaping!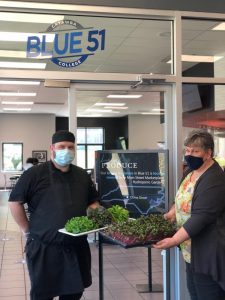 6. Hydroponic Partnerships | Catawba College
In an effort to add more local sourcing to their program, Catawba College partnered with a local non-profit, Main Street Marketplace, located just 20 miles from campus. Main Street Marketplace's hydroponic butter lettuce is now available at all of Catawba's retail locations including Bowl Life and Timeout Grill. Main Street Marketplace's hydroponic microgreens are also being featured as a topping in Bowl Life and for their catering events. Congratulations to the Catawba team for their innovative local produce solution and assistance to their community.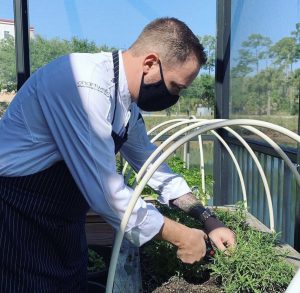 7. Campus Gardens | Florida Gulf Coast University
Our team at Florida Gulf Coast University maintains a campus garden full of 10 different types of produce including microgreens, dill, cilantro, baby salad greens, and more that they feature daily in their dishes at their SoVi residential restaurant. Pictured is our Divisional Chef Chris Scrivano harvesting herbs for use in a chef-feature dish.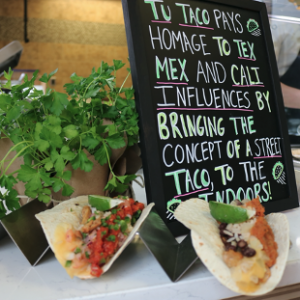 8. Plant-Forward Dining Hall Takeovers | Colgate University + St. John Fisher College
A few of our accounts have introduced Root for You, an event that transitions one of our dining locations into a completely plant-based food hall. At Colgate University, 10 stations were transitioned including a "Vegetable Butcher Shop" and featured dishes such as vegan cauliflower ribs, vegan PAOW pepperoni pizza, vegan ice cream, and much more!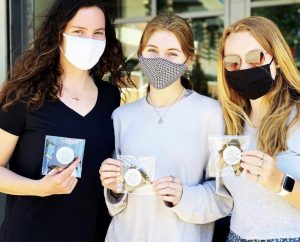 9. Fair-Trade Snacks | The Catholic University of America
The Catholic University of America hosted a tabling event to educate students on the importance of Fair-Trade products and the benefits of the sustainability efforts. They also handed out samples of Guittard Fair Trade Chocolate Pretzel Bark.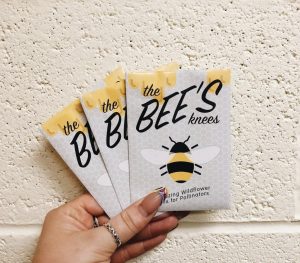 10. Seed Kits | Carnegie Mellon University
Our team at Carnegie Mellon University provided wildflower seed kits to anyone who ordered dinner from their food hall on our mobile ordering app! They encouraged students to plant these seeds to help regenerate depleted bee populations.