A Look Into our Ghost Kitchens
Utilizing ghost kitchen innovation to meet pandemic needs on our campuses
When the pandemic began, we faced so many uncertainties. How would we logistically serve our students safely? What emerging trends can we identify and incorporate into this new world, and what would be the impact on our people, locations, and clients? As we began to make sense of this future, we did not hesitate with our planning – we started building solutions and hosting think tanks to answer the questions that keep our clients up at night. One of the first innovations to emerge from these ponderings was our Ghost Kitchens.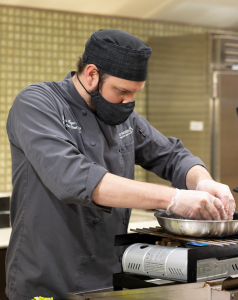 Ghost Kitchens can offer a completely new and unique dining experience to our students while also saving positions, re-utilizing closed spaces, and importantly – keeping our students and communities safe. The concept of a ghost kitchen is simple, we utilize existing kitchen space to create a virtual pop-up (mobile ordering only) with no-contact pickup or delivery. While planning for these locations was already in development, we expedited the rollout and identified pilot accounts at the start of the COVID-19 pandemic, including Seattle University.
The fall semester at Seattle University saw less than 10% of the community actively on campus. There was an opportunity with weekend options and an ask for more vegan options while the university operated at a lower capacity. A perfect opportunity to pitch our ghost kitchens – with minimal cost impact or space requirements, the team at Seattle U converted a closed kitchen to operate C-Street's Secret Menu consisting of twelve rotating vegan entrees and desserts. Parents were thrilled, writing us dozens of thank you notes for our innovation and quick thinking, and our clients had this to say, "I am extremely appreciative that Chartwells was able to find such a creative solution to deliver enhanced service at such a challenging time. The Secret Menu is a timely innovation that allows students to quickly & safely pick-up their meals while providing new options every week. By leveraging technology with convenience Chartwells has resourcefully found a way to meet the needs of our campus community." – Dion Wade, Director of Administrative Services at Seattle University
The positive feedback from the parents and clients was amazing to hear, but we also saw real data and results from our new integration. During the first month, the ghost kitchen and its "secret menu" saw over 24,000 orders with a boost of 90% in sales on our proprietary mobile ordering app. Since the launch, the team has expanded the menu even further and is still seeing tremendous interaction.
The pandemic has created the opportunity for us as leaders to encourage our teams as they rise to the challenge to drive innovation. These ghost kitchens are just one example of our teams' robust portfolio of pandemic innovation at Chartwells Higher Ed.