Eliminating Plastic Disposables at the University of Miami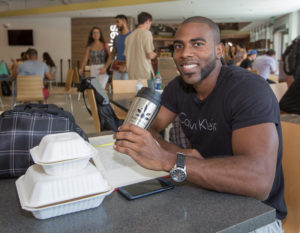 Say hello to tree-free disposables. UM Dining is partnering
with Emerald Brand to make its operation even greener.
As UM Dining Director Michael Ross says, "After a lot of
hard work and research behind the scenes, we are excited
to transition to tree-free disposables this fall."
MORE SUSTAINABLE OPTIONS REPLACING CURRENT
DISPOSABLES INCLUDE:
Emerald Brand PLA straws are replacing plastic straws.
These new 100-percent compostable, biodegradable, treefree
straws are now available at all campus retail locations
and by request at the Hecht-Stanford and Mahoney-Pearson
Dining Halls (which have gone straw-free).
Dining halls and retail locations are now using tree-free
napkins, and kitchen and prep areas are using tree-free
paper towels.
Plastic take-out containers are converting to Emerald Brand.
Emerald uses natural agriculture fibers (food production byproducts)
to create these sustainable, disposable versions.
This bold initiative is a continued effort. Last year, all dining
locations replaced plastic bags with paper, and students
can opt to buy reusable bags. Green U and UM Dining
also work closely on environmentally conscious initiatives,
most recently by increasing recycling efforts campus-wide.
According to UM Sustainability Manager Teddy Lhoutellier,
"I am particularly excited about this initiative, as we
are on the forefront of universities taking an eco-friendly
approach to all aspects of dining."
"We do not look at sustainability as an option, we view
it as a requirement," says UM Dining Marketing Director
Meagan Clements. "To not only improve our program by
making a positive impact on the earth, but also have the
opportunity to partner with the passionate and environmentally
ethical people of Emerald has been rewarding
in so many ways."