Chartwells Higher Education Partners with Celebrity Chefs
For years, Chartwells Higher Education has been working hand-in-hand with celebrity chefs from Food Network and beyond to unite our campus communities through food. These chefs are more than just famous names–they help us educate campus communities and connect with students to build stronger relationships. They uplift our students with educational materials, demonstrations, and expertise. Whether our partner chefs are hosting cooking competitions, Teaching Kitchens, or just dropping by for a meet-and-greet, they carry out our mission of connecting through food.
Chefs Aarti Sequeira and Justin Warner Battle for Islander Top Chef | Texas A&M University-Corpus Christi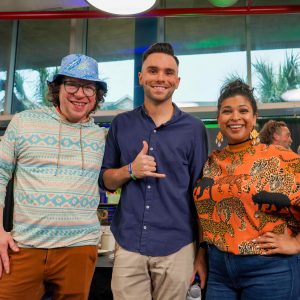 Last month, chefs Aarti Sequeira and Justin Warner visited TAMUCC for a culinary competition to determine who was Islander Top Chef. The two chefs led teams of faculty members in a head-to-head contest to make the best tacos possible. Just like in Top Chef, both teams' dishes had to include a secret ingredient unique to each team.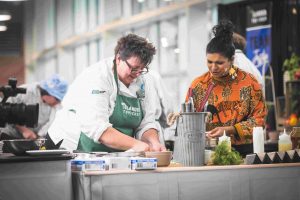 When the dust settled, Aarti's team emerged victorious as the Islander Top Chefs! Her team presented three shrimp tacos that each had a unique theme and made great use of the secret ingredient, fennel. Justin had also impressed the judges with his team's tacos, which used their secret ingredient of tamarind paste.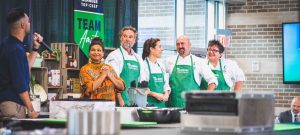 The event was a massive success—the students loved watching the faculty-turned-chefs compete, and they participated in giveaways and meet-and-greets with Aarti and Justin.
---
Chef Jet Tila Makes His Mark | American University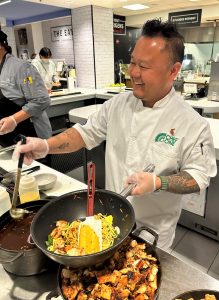 Chef Jet Tila stopped by American University for a Teaching Kitchen and a dining hall takeover! He taught students how to cook delicious drunken noodles, then took over the Paper Lantern dining concept. He designed a special menu for the event, and students got to try dumplings, egg rolls, kimchi fried rice, Korean hot dogs, and other delicious foods. All proceeds went to fight food insecurity on campus, ensuring that the whole community benefited.
The students were incredibly excited to meet Jet! Many students had grown up watching him on Cutthroat Kitchen with their families. One student's family drove over seven hours to see him. Chef Jet made sure to take selfies with everyone. We were grateful for his fun visit to campus!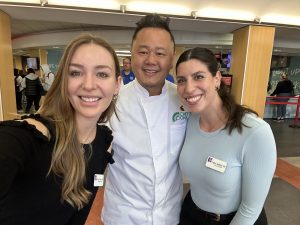 ---
Learning With Chef Roy Choi | San Jose State University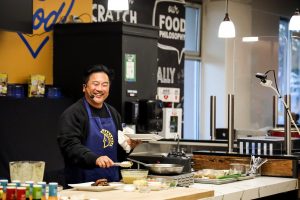 Our associates at San Jose State University partnered with Student Affairs, Associated Students, and the Center for Asian Pacific Islander Student Empowerment (CAPISE) to bring Chef Roy Choi to campus! Unlike our other chef partnerships, Chef Roy is not a Food Network chef but instead became famous thanks to his innovative fusion cuisine. He has developed a wide range of unique dishes that combine Mexican and Korean flavors! He is also a pioneer of the gourmet food truck scene and has run several food trucks of his own.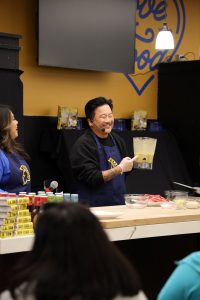 During his visit, Chef Roy educated students with a cooking demonstration of his famous galbi recipe. He also sat for a Q&A session and shared his cooking tips and tricks. Students also got to sample his famous galbi and receive a free signed copy of his cookbook, L.A. Son: My Life, My City, My Food.
We were proud to partner with CAPISE to provide this opportunity for students to learn and engage with Chef Roy!
---
We'd like to thank our celebrity chefs for their passion for educating and connecting with campus communities. Bringing these talented chefs to our campuses is one of our favorite things to do, and we love to see our students respond so well to their favorite Food Network chefs. We'd like to say thank you to all the celebrity chefs we've partnered with!