Chartwells Higher Education Spreads Joy During DelightFul
Throughout DelightFul week, our associates and students worked to spread cheer and kindness across 300 college campuses. Together, we have completed over one million acts of kindness to date! Our associates took our message of positivity to heart and made real, tangible impacts in our communities by donating to food pantries, supporting local hospitals, handing out goodies, and more.
Here are a few highlights of our most innovative events: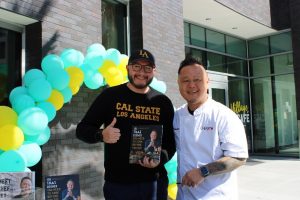 Giving Back With Chef Jet | California State Universities
Celebrity Chef Jet Tila came down to two California State University campuses to help us spread joy during DelightFul! He started the week off by stopping by CSU Fullerton for a full day of book signings, free samples, and selfies. Students watched him host a shrimp po boy cooking demonstration with our very own sous chef, Joe Braden. The next day, Chef Jet came down to Cal State LA for another cooking demo with Cal State student and RHA president Mallak Albaradi. Together, they taught students how to make drunken noodles.
Both campuses also sold copies of Chef Jet's cookbook, "101 Thai Dishes You Need to Cook Before You Die". Proceeds from cookbook sales went to supporting campus food pantries fighting food insecurity!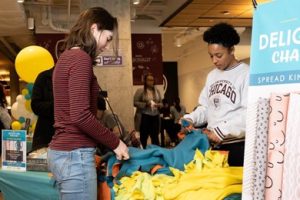 Keeping Our Neighbors Warm | UChicago
Thanks to the students at UChicago, displaced Chicagoans will stay warm and safe this winter. Our associates hosted a campus-wide blanket drive with Chi-Town Blankets to give blankets to the needy. The DelightFul event also included a coffee bar from local vendor Chicago French Press, random act of kindness cards, and a partnership with the African and Caribbean Student Association. We finished off the event with a Teaching Kitchen from celebrity chef Lamar Moore, who taught our students knife skills and helped them make perfect steaks.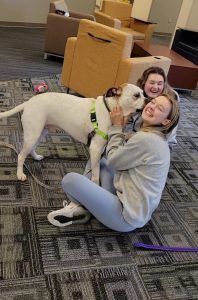 Treats For Pups | Siena Heights University
Our four-legged friends were also part of the DelightFul celebration! Students at Siena Heights University decided to spread joy to their local dog shelter by packing goody bags full of treats for dogs awaiting adoption. We brought the shelter dogs to campus to bond with students and spread happiness and positivity. The pups showed their appreciation for their treat bags through lots of tail wags and kisses.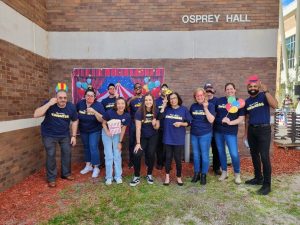 The Karnival is in Town | University of North Florida
Associates at the University of North Florida showed off their dance moves at their Karnival of Kindness, which included a custom dance routine and a flash mob that helped spread joy to students. The team got to bond in a fun, unique way while also promoting random acts of kindness throughout campus. Students took our message to heart, and they spent the week spreading kindness by writing Valentine's Day cards, handing out treats, and more.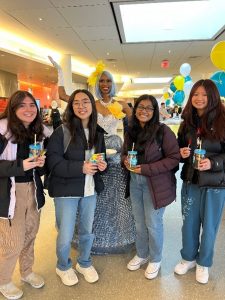 The Ultimate Campus Party | Northeastern University
The Northeastern Dining team celebrated DelightFul at a campus-wide event, where students enjoyed a chocolate fountain, a snow globe bouncy house, and cotton candy drinks. Students also created cards to send to St. Jude's and wrote each other messages of encouragement. We closed DelightFul week with a Teaching Kitchen from Nia Grace, a local entrepreneur and restaurant owner. In total, Northeastern students performed over 2,000 acts of kindness!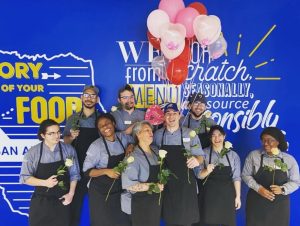 Spreading Love on Valentine's Day | Angelo State University 
DelightFul week also happened to take place at the same time as Valentine's Day. At Angelo State University, our Director of Dining Services, Richard Gonzalez, took the time to celebrate both DelightFul and Valentine's Day. He handed out 96 roses to associates and helped make Valentine's Day a memorable one!
---
Our associates made DelightFul week truly amazing. We can't be more thankful for each and every associate and their enthusiasm. Together, we made the world a brighter, more positive place by creating over one million acts of kindness!