Celebrating Over 250,000 Local Heroes During PowerFul
In early April, our associates united at 300 of our campuses to celebrate local heroes all across their communities. Together, we gave thanks to over 250,000 firefighters, dining associates, police departments, and other heroes who work hard every day. Through countless compliment cards, words of encouragement, cookies, and celebrations, we made sure that our heroes felt appreciated.
Here are a few ways that our associates celebrated their biggest heroes:
Campus Heroics During PowerFul



A Flag for a Hero | Louisiana State University, Eunice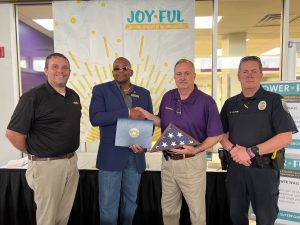 At Louisiana State University, Eunice, our Dining Director Jed Joubert invited firefighters, marshals, and police to have lunch with us during PowerFul. The news about our PowerFul event spread so far that Congressman Clay Higgins heard about it from Washington D.C. He sent Jed an American flag and a certificate as a thank-you for honoring local heroes. Congratulations, Jed!
Supporting Superheroes | Texas A&M University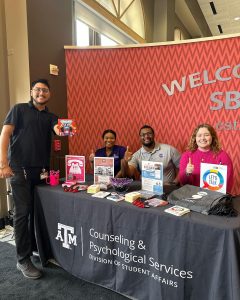 At Texas A&M University, we celebrated PowerFul with superfoods and superheroes. Our associates set up a booth during their PowerFul event with the campus police and the TAMU Counseling and Psychological Services team. The booth helped raise awareness about how we can focus on mental health to support ourselves and also highlighted all that the campus police do. During the event, we offered a healthy, wholesome menu full of superfoods like fried cauliflower rice, rice bowls, salads, whole grain pasta, and other nutritious foods.
Handwritten Notes of Kindness | Indiana University–Purdue University Indianapolis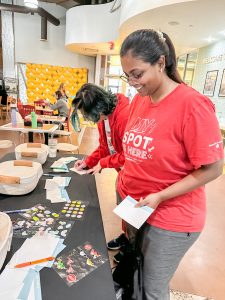 It's easy to forget how hard our local safety teams and hospitals work to protect us. During PowerFul, the local heroes at Riley's Children's Hospital, IUPUI campus facilities, and IUPUI campus security found out just how much students appreciated them. Students wrote dozens of thank you cards at a huge campus party that also included two DJs, a photo wall with balloons, and a showing of Iron Man.
Our Favorite Furry Hero | University of Maryland, Baltimore County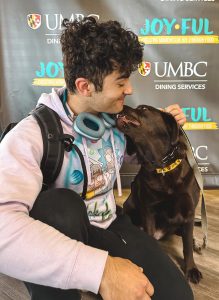 Heroes come in all shapes and sizes. Students at the University of Maryland, Baltimore County, students learned this firsthand when they met Chip, a police dog who works with the UMBC police to sniff out crime and keep campus safe. He took a break from his hard work to visit our PowerFul event. Students posed for photos with Chip in a superhero cape, and they also handed out thank-you notes and cookies for heroic departments.
A Campus Celebration for Heroes| Babson College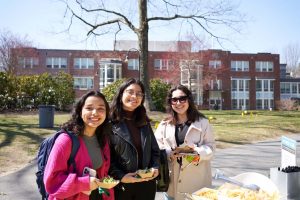 Our associates at Babson College helped students put together a huge, campus-wide party! We celebrated PowerFul with a yoga session, lawn games like badminton and volleyball, giveaways, photobooths, and more. Fraternities and sororities at the event collected non-perishable food for A Place to Turn, a local charity. Guests also used a motorized fitness wheel from Zerowheel to make their own smoothies.
Of course, our associates cooked up a wide range of delicious Feel Good Foods to power our students. We offered everything from grilled sweet potato tacos topped with watermelon radish to build-your-own guacamole!
---
The Heroes On Our Teams 
There are hundreds of heroes to be found right here at Chartwells. Every day, we hear more stories about how our associates make a difference in the lives of teammates and students. For PowerFul, our teams highlighted their own Chartwells heroes and celebrated each other!
Giving Back the Skeauxzetta Way | Breona Derozan | Louisiana State University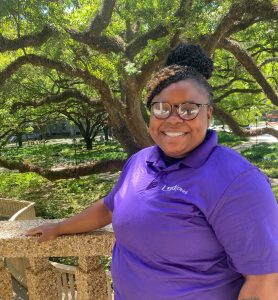 One kind associate at LSU is using her hairstyling talents to help kids in need! Breona Derozan is a member of the LSU Catering team, but she also runs her own hairstyling business, TheSkeauxzettaWay. Her business's name is a combination of her nickname, Skeaux, and a way to honor her late cousin Jozetta.
Since 2019, Breona has been helping the community in an event called Giving Back the Skeauxzetta Way, where kids can donate canned goods to the community in exchange for a back-to-school haircut. She's aiming to support even more people with a new Easter build-a-basket event. We deeply admire her power and endless kindness!
A Community Hero | Alicia Ticer | Southeast Missouri State University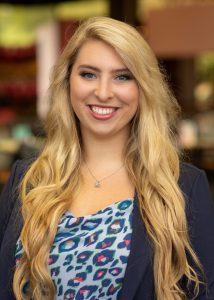 Alicia Ticer is known all across the Southeast Missouri area as an amazing force of kindness. When she's not working hard to support SEMO students, she spends her time volunteering to help the people around her. Her countless volunteer activities include working with the Salvation Army, Habitat for Humanity, United Way, and more.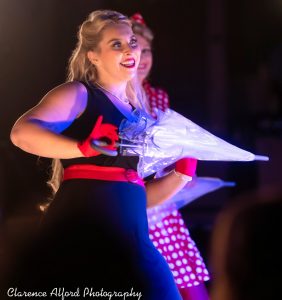 Alicia is always willing to be there for her community. She performed in the Dancing with the Show Me Stars show with the Community Partnership of Southeast Missouri. Her performance helped the show raise $76,000 to support homeless and low-income community members. Alicia is a great example of the talented, compassionate, and brilliant superheroes that we honor during PowerFul. We're so proud to see her make a difference.
Baking Up Kindness | Shani Thomas | Wichita State University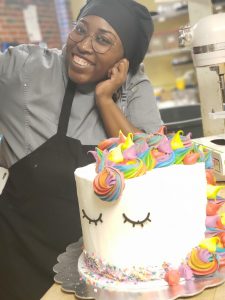 The Wichita State University catering department is lucky to have Shani and her immense baking talent! Shani Thomas is famous in the catering department for her specialty desserts and intricately decorated, Instagram-worthy cakes. University leaders will even request her amazing products.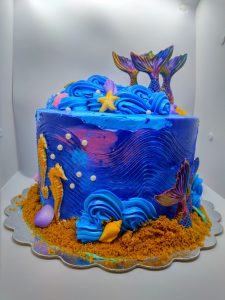 Not only is she talented, but she's also always ready to bring joy to the people around her. She once created 50 beautiful, intricately decorated holiday cookies for the childcare center on campus to brighten their day. Shani is a key part of the catering department's success, and we thank her for being a PowerFul force!
Spreading Kindness for Over 10 Years | Ribon Kareem | Stockton University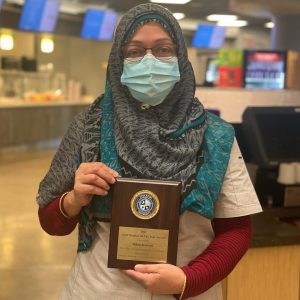 For over ten years, students have been greeted by Ribon Kareem's warm smile in our dining locations. Our students love to see her every day, and they showed how much they appreciate her by giving her a Staff Member of the Year award from the Student Senate and the Campus Religious Council. They also gave her many handwritten cards to thank her for her kindness and friendly, familiar presence. She is a wonderful team member that can make real connections with the community and is always willing to help students. We're so glad to hear how Ribon brings joy to campus!
---
Superfoods Packed Full of Functional Benefits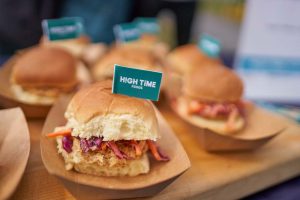 We had to make sure that our students were fueled for all their amazing events! Our Feel Good Food menus were designed with nutrition and health in mind and included meals packed full of omega-3s, protein, whole grains, fiber, and more. Some highlights included street cart-inspired rice bowls, wraps, salad bowls, street tacos, build-your-own loaded guacamole, flatbreads, and healthy pizzas. The menu included foods inspired by flavors from all across the world, such as Korean spinach and garlic stir-fry. From all the smiles we saw, we could tell that students loved what we had to offer.
PowerFul was an incredible success, and it was all thanks to our hardworking on-site teams who organized events, cooked delicious meals, and brought smiles to our local heroes. Our associates are our biggest superheroes. Since we first began the JoyFul series, we've performed over a MILLION acts of kindness and counting! From the bottom of our hearts, we'd like to say – Thank You!