Celebrating Our Chefs | Chef Appreciation Week 2023
Our chefs spread joy in our campus communities through food, and we're endlessly inspired by the positive experiences they create on campus! From September 10-16th, we're celebrating our chefs during Chef Appreciation Week.
---
Senior Executive Chef Chad McDonald | University of Houston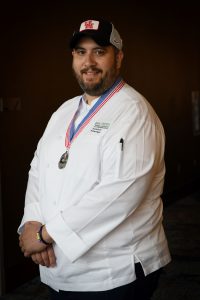 Chef Chad was recently awarded Silver at the national NACUFS Culinary Challenge, a prominent cooking competition for higher education professionals. During the competition, chefs are challenged to create a dish out of a limited number of ingredients and under a strict time limit. Chef Chad crafted a char siu wonton noodle soup that impressed the judges and won Silver. Congratulations!
Chef Chad said that competing at NACUFS pushed him as a culinarian, as the timed cooking competition is very different from cooking in your own kitchen and requires a unique skill set. To compete, he adapted his organizational skills and learned how to plan every single step and movement to make every second count.
At the University of Houston, Chef Chad works to make an impact on quality food, not just in one kitchen, but in kitchens across the University of Houston system. He grew up in an agricultural community and was part of FFA (Future Farmers of America), which he believes gives him a greater understanding of what it takes to craft meals for his guests.
---
Senior Executive Chef Charles Gibbons | University of Minnesota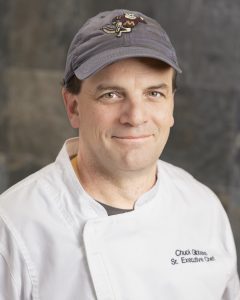 Chef Charles Gibbons is a talented and hard-working chef who has been part of Chartwells for eight years. Since he first joined, he has made a difference as a community-focused pillar of the University of Minnesota team.
Chef Charles comes from a long line of culinarians and is the fourth-generation chef in his family. He has had a long and prolific career and has worked in almost every type of food service there is, from fast food, fast casual, fine dining, hotels, golf courses, and even in a food truck. One of his biggest career accomplishments has been competing at the Big Ten Conference Chefs' Summit, where he created an Impossible Burger Juicy Lucy, a burger packed around cheese.
Chef Charles finds purpose and fulfillment in his role because the work that he does supports students not only during their college years, but also throughout their lives. He is proud that the eating habits and health benefits they receive on campus will stay with them for the rest of their lives.
---
Executive Chef Ashley Pitts | California State University, Fullerton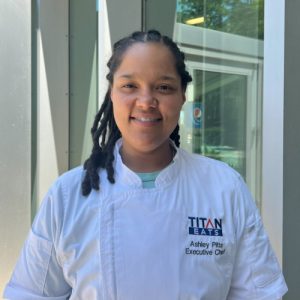 Today we're excited to feature a chef who is deeply involved with the Women in Culinary (WIC) program and fights to create kinder kitchens for female chefs. Chef Ashley Pitts, the Executive Chef at California State University Fullerton, connects with other female chefs in the WIC program who have shared the same experiences in their career paths or daily goals.
Chef Ashley says that the WIC program has helped open her eyes to the experiences of other female chefs like her. Through WIC, Chef Ashley connected with other female chefs who have undergone the same shared experiences. Her favorite part of the program is hearing from some of the leading women in the industry, which she says has really helped light her fire.
She enjoys fostering student engagement and connecting with her guests, whether she's hosting Bingo nights or marketing events. Chef Ashley's favorite thing to cook is Southern creole-style food, but she also loves playing with different flavors like Asian-inspired dishes.
---
Executive Chef Ken Ohlinger | University of Utah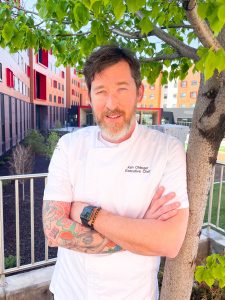 We make sure to give back to the chefs who inspire us every day by offering several programs to foster their talents. Our Bench Chef program trains chefs in kitchen management and leadership and provides a pathway for them to become Executive Chefs. Today we're spotlighting a chef who has grown their skills within the Bench Chef program.
Chef Ken Ohlinger, the Campus Executive Chef at the University of Utah, first joined Chartwells a year and a half ago. He described the program as a "kickstart" that allowed him to reach the role that he has now. During his time as a trainee in the program, he took advantage of the many mentorship opportunities to learn from fellow chefs Charles Kimball, Chuck Weaver, and Dallas Balzly. Since joining the program, he has gone on to mentor chefs of his own.
Fun fact about Chef Ken: his parents once arranged a visit from Santa when he was six, so he knows that Santa is real!
---
Executive Chef Thomas Gilbert | University of Chicago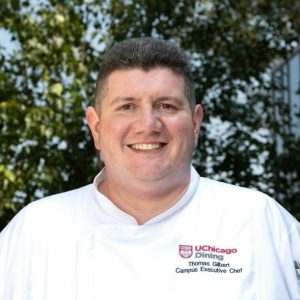 Each year, we're proud to nominate a chef as the Chef Appreciation Week Chef of the Year! This year, our nominee is Thomas Gilbert, who helps lead the UChicago Dining team as the Executive Chef. He joined the UChicago team because he was excited to innovate outside the box and experiment with trends at one of our largest accounts. His hard work has paid off, and his innovative thinking has helped his team build stronger connections with the campus community.
Chef Thomas was formally educated in French cuisine, and he has used his talents in a wide range of different roles. For most of his career, he worked in private restaurants or as a private chef in New York.
When he's not leading his teams or finding ways to connect with students, he enjoys cooking braised lamb or beef shank, which are his favorite dishes to cook.
---
Thank you for taking such good care of your campus communities!