Celebrating Lunar New Year
Lunar New Year is celebrated annually in many Asian cultures around the world – each with its own vibrant traditions for how they choose to ring in the new year.
In China, Lunar New Year (also called the Spring Festival or Chunjié), is a large public celebration with dragon parades, lion dances, and fireworks. The color red symbolizes good fortune, so many choose to dress themselves and their children in the color during celebrations. The festivities usually last a couple of weeks and end with the Lantern Festival marked by beautiful paper lanterns, eating turnip cakes and tangyun.
In Vietnam, Lunar New Year is referred to as

Tết Nguyên Đán (or Tết)

, and is celebrated with bánh chưng (sticky rice cakes), yellow ochna flowers, and by paying visits to friends, relatives, and neighbors.
In Malaysia, it is traditional to gather and enjoy yee sang, a dish of raw fish and shredded vegetables that is commonly known as the "prosperity salad."
In Korea, the new year is traditionally celebrated for three days and is called Seollal where they enjoy dishes Dduk-Guk and play games like Yut Nori. Children participate in a bowing ceremony called Sebae to honor their parents and grandparents.
While each culture has its very unique nuances, all celebrate the new year as a reminder to cherish family, community and wish prosperity for the coming year. Below are a few examples of how our teams are celebrating Lunar New Year across the country with a few chefs you just might recognize.
Celebrating Tết at the University of Chicago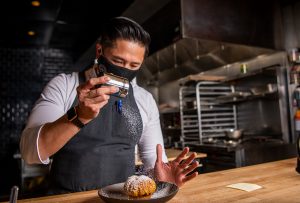 To welcome the new year on the University of Chicago's campus, UChicago Dining was thrilled to host critically acclaimed chef Thai Dang for a station takeover on February 1 and February 2. The takeover, hosted at The Kitchen station of Woodlawn Dining Commons, featured several exciting menu options. Chef Thai Dang brought four signature dishes to UChicago Dining's operation — two for fun, and two main courses.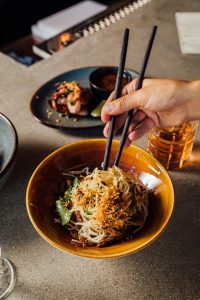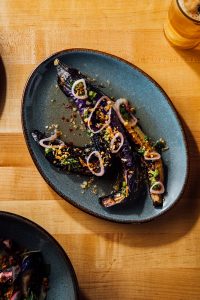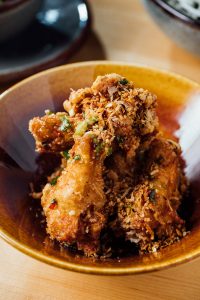 The fun options Chef shared with UChicago's campus were: Gỏi Đu Đủ, which is a traditional Vietnamese salad of young papaya with Vietnamese jerky, sawtooth herb, and Tương ớtv (Vietnamese hot chili sauce), and Cánh gà chiên, which are his famous crispy chicken wings with caramelized fish sauce and chili oil. For his main courses, Chef prepared Ga N" Ong, which is oven roasted five-spice chicken, as well as Cà Tím Nướng Mỡ Hành, which is grilled eggplant with scallion and pickled shallot, as well as aromatic rice on the side of both dishes.
For Chef Thai Dang, Lunar New Year itself represents community, which was one of the reasons he was excited to show his team what community can look like through food and celebration.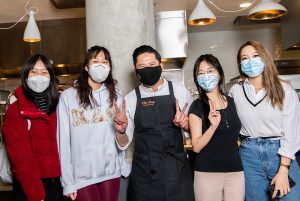 "I can't imagine how my mom felt leaving Vietnam. I remember her during the holidays like Lunar New Year doing everything she could to make the dinner table look like home," Dang said. "Here in Chicago I don't have any family, and they FaceTimed me yesterday and they were having a great time which made me miss home, but I told them I was going to do something here at UChicago. To me, celebrating Lunar New Year this way and sharing Vietnamese cuisine with the public is awesome."
---
Lunar New Year at Texas A&M University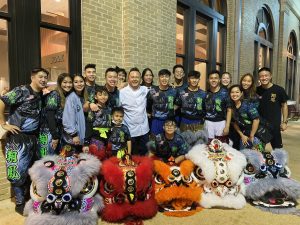 To ring in the new year, the dining team at Texas A&M partnered with Chef Jet Tila as he hosted their Lunar New Year celebrations on February 1st. Chef Jet's recipes took over the Sbisa Dining Hall lunch and dinner stations featuring some of his favorite traditional dishes including three varieties of steamed dumplings: Chicken Lemongrass, Kale and Vegetables, and Edamame, as well as drunken noodles with beef, Szechuan green beans, egg rolls, and more. Special shoutout to the partnership with Schwan's Company whose delicious ingredients helped us craft the dishes to perfection.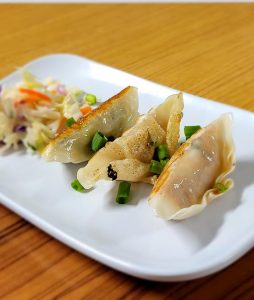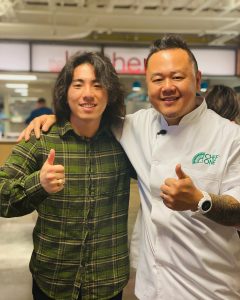 Chef Jet took to the floor, meeting with students and sharing his excitement for the holiday. Chef Jet also gave away signed copies of his newest cookbook, 101 Thai Dishes You Have to Cook Before You Die. To end the night, a traditional Lion Dance was performed by Soaring Phoenix Lion and Dragon Dance Association. This non-profit local organization works towards funding mission trips to Vietnam and was introduced by a Soaring Phoenix member and Texas A&M student.