Honoring Women's History Month
March is Women's History Month, a time for celebrating and uplifting the talented women that make our teams great. Chartwells would not be where we are today without the contributions, drive, and hard work of our female chefs and leaders. Building a more equitable world is a lifelong mission, and we're proud to see our teams carry out our mission every day. We devote ourselves to a fairer world through multiple programs and initiatives, such as our Women in Culinary program.
Throughout the month, we'll be spotlighting our female chefs who are fighting for a more equal world. Read more below!
---
Maja Gajic | Executive Chef at The University of Texas at Arlington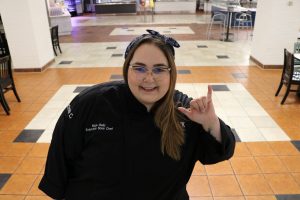 "I'm a third-generation chef that comes from a family with immense culinary talent. My grandmother was a chef in Switzerland, and my mom was a chef in Yugoslavia. I carried on the family tradition and started cooking. My career started at 13, with my first professional kitchen job.
My family first came to the United States as war refugees, and we worked hard together. I helped my mom out by working closely with her in many different places, from the Chick-fil-a that my parents owned to a catering company in Serbia, where I was the executive chef.
My mom was an amazing mentor to me, and she was part of the reason that I became a chef. She used to be my boss, but as my skills developed and I grew up, our roles flipped. She taught me to always be humble, kind, and hardworking.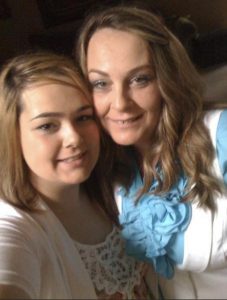 Thanks to my mom's mentorship and my experiences growing up, I know to never give up. I am a younger woman, a refugee, LGBT+, and plus sized. Just being here, I'm breaking barriers for other women in culinary. I'm so proud that I was able to become an Executive Chef by the age of 30. It was a dream come true for me.
I believe that Women's History Month is a time to reflect and highlight how much women have done throughout history. It's the perfect time to showcase amazing women across the world and tell the women in your life how much they mean to you.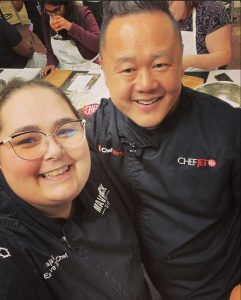 I'm glad that Chartwells and Compass Group are working to make a change in an industry that needs one. They recognize that the percentage of women in culinary is too low, and they are actively promoting women to make that percentage higher. I've been a part of their regular Women in Culinary calls, and the Women's Culinary Showcase is awesome.
My advice to female chefs is that you shouldn't let anyone tell you that you're not strong or good enough. The culinary world is dominated by men, and it's not easy to be the only female chef in the room. No matter where I work, I make sure to uplift and motivate any woman I work with. If cooking is your passion, don't give up! Turn negative comments into fuel and ignite more passion to keep going when it gets hard."
---
Lindsay Wilson | Registered Dietitian at the University of Pittsburgh 
"Back when I was first starting out as a dietitian, I swore up and down that I would never work in foodservice. It was my least favorite area of study. But here I am, working as a food service dietitian and loving every minute of it.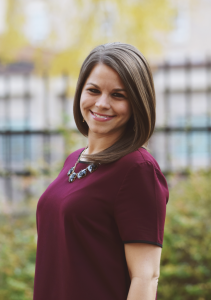 On Registered Dietitian Nutritionist Day, I wanted to share my unique perspective on what true health and wellness look like. Throughout my career, I've learned that everyone has a different idea of what "healthy" means to them. I try to use my expertise to help people see food as more than just fuel for our bodies: food is also culture, faith, family traditions, personal preferences, beliefs, and more. To me, a healthy lifestyle means having a positive relationship with food that is non-restrictive, mindful, enjoyable, and shame-free. Living healthy is about nourishing both our body and mind.
I've been working as a registered dietitian for over 12 years now. There are plenty of female dietitians, but the field of foodservice in general continues to be male-dominated. But despite that, I've made huge strides in the field of nutrition. I've presented at national conferences, been featured in magazines, and won three NACUFS Most Innovative Wellness and Nutrition Awards. I'm also sharing my expertise by teaching the next generation of dietitians in the Dietitian Nutritionist Program at the University of Pittsburgh.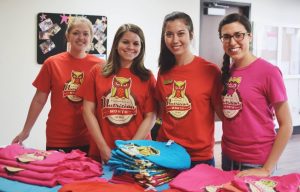 I know that I owe a great debt to the women in the foodservice industry that came before me. Being a woman in a male-dominated industry can be tricky. You spend a lot of time navigating that gender differential. Female pioneers in foodservice like Sarah Tyson Rorer, Lenna Cooper, Lulu Graves, Edna Lewis, Marion Nestle, Alice Waters, and Buwei Yang Chao paved the way for me. They shaped the culinary and nutritional fields with their passion for food, and that makes it easier for women to be accepted in foodservice.
International Women's Day represents an opportunity to share the stories of often-unheard women. Schools teach us that the presence of men like George Washington, Frank Lloyd Wright, Andrew Carnegie, and Andy Warhol is the norm, while the presence of women is seen as exceptional. Countless women have done incredible things throughout history but were not recognized in their time. By recognizing the women that came before, we can hopefully inspire other women to do big things, even in the foodservice industry."
---
Jasmine Peoples | Executive Chef at the University of North Carolina at Charlotte 
"I first developed a love for food from my dad. Every Saturday, he'd cook us a big breakfast of whatever we asked for, which always made me feel special. Cooking for the family was just another way that he showed us love. It was almost as if I could taste his love for me in his food.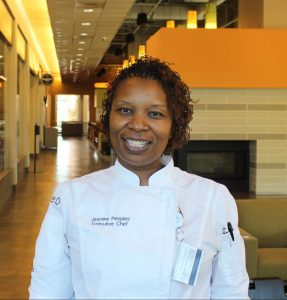 I wanted to create that same experience for others from all walks of life. To me, food is a way to connect with people. It's an experience from beginning to end: a conversation starter, a fond memory.
Now I'm working as the executive chef at UNC Charlotte, making sure that our students get the same delicious flavor and exceptional dining experience that I did. Even though COVID-19 changed the way we work in the foodservice industry, I'm still standing strong and giving it my all. I put 110% into my cooking, and I know that just by showing up and working hard, I'm helping break down barriers for female chefs.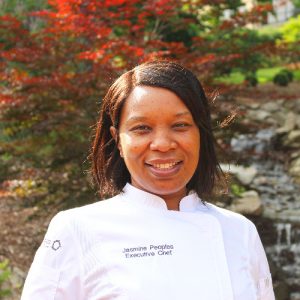 To me, Women's History Month means change. Women in my field are making power moves, moves that some might have thought were impossible. I'm glad that Chartwells and Compass Group are making a difference for women in culinary by giving more women the opportunity to be in leadership roles. It means a lot to see women be the focus in multiple different roles, especially senior leadership roles, in such a male-dominated field.
If I was going to give advice to female chefs, I'd say that it's important to be your own cheerleader. There will be people that try to break you down, but you should always remember that you got this role for a reason. Your work speaks for you, even if other people can't see it.
Being a woman in the culinary world can get hard at times. The people you work with might sometimes struggle with taking direction from a woman in a male-dominated industry. They may question every move you make, or even think that you can't do your job. Just remember that you were put in this position for a reason, and don't let anyone or anything take that from you. You worked for this spot and it's yours!"
---
Melinda Burrows | Executive Chef at Missouri State University 
"I knew from a very young age that cooking created a real connection between people. I first learned to cook from my grandmother. I soon realized that I was pretty good in the kitchen, then my profession chose me!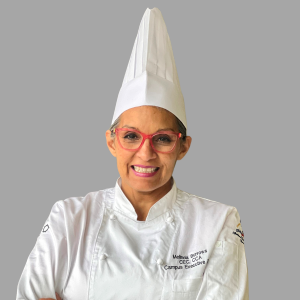 I've been working in the culinary world for almost my whole life, and I've traveled all over the world as a personal chef to big names like Paul McCartney, Phil Collins, and INXS. I love that cooking allows me to make people happy with my food: it's something I never forgot from my grandmother's cooking lessons.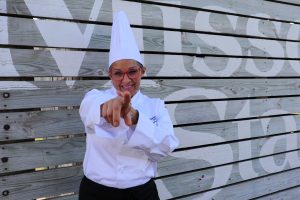 To me, Women's History Month represents a time to celebrate talented women that broke barriers and their unique contributions to the world. I'm breaking barriers myself by hiring female associates, mentoring female chefs-in-training, and promoting women in culinary through the American Culinary Federation and the Women Chefs and Restaurateurs organization.
Supporting these female chefs helps me foster kinder kitchens, which are spaces where women in culinary enjoy clear expectations, a spirit of teamwork, honest feedback, credit where credit is due, and respect for all culinary positions. We have a lot to accomplish before every kitchen is truly kind, but I'm proud to be doing my part.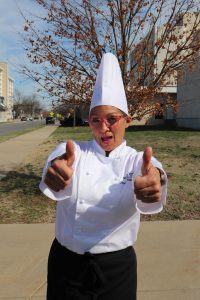 To all my female chefs out there, I want to encourage you to never give up, listen to the people who believe in you, and fail forward. Be true to yourself, cook with love, and most of all, season as you go!"
---
Micole Rivera Suárez | Executive Chef at Nova Southeastern University 
Chef Micole sat down in front of the camera to share what Women's History Month means to her and how she's proud to be working as a female chef. She also shared how Chartwells is changing the industry by supporting women in the culinary world through innovative programs and open discussions.