An Interview with David You, CEO of Student-Led Restaurant Capital Grains
A new restaurant has opened at Carnegie Mellon University with the help of Chartwells at CMU. Capital Grains is a salad and grain bowl dining concept serving students in the Tepper School of Business that is student-run and student-operated.
The mastermind and CEO behind this project is David You, a senior at Carnegie Mellon University studying business administration with a minor in computer science. He partnered with Chartwells at CMU to bring this ambitious project to life. We sat down with him for a virtual interview about his passion for entrepreneurship, how Capital Grains began, and where he wants to take the restaurant in the future.
---
Tell me a little bit about yourself and your experience with dining services.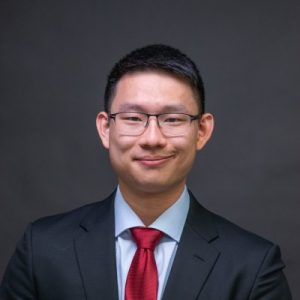 I first started working with dining services in August 2022, as one of the Head Orientation Counselors leading initiatives to welcome the undergraduate class of 2026+. In this role, I worked closely with Joe Beaman, Director of Dining Services, and Mike Tokarek, District Regional Manager of Chartwells at CMU, to design the menu for Orientation Week.
How did the partnership begin?
A few weeks after Orientation Week ended, Joe and Mike messaged me to meet for lunch. Initially, I thought they wanted me to work on backend infrastructure, so I was incredibly surprised, nervous, and excited when they brought up the idea of building a student-run and student-operated restaurant. I had this inexplicable feeling that this would be an incredible learning experience, even though we had no structure beyond the initial idea.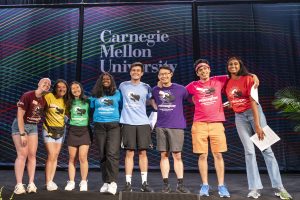 What inspired you to start Capital Grains?
I've always had a passion for cooking and management, and this was the perfect opportunity to combine those two skills. I started cooking during my sophomore year in the spring of 2021 after returning to campus from a year online. I fell in love with it after I made my first dish. There's something incredibly rewarding about making food from scratch, refining recipes, and seeing people's faces light up when they like my food.
I decided to pursue a degree in business administration since I've always been interested in learning how to run a business. When I was younger, I would stand in front of empty "For Rent" stores and envision what kind of business I'd put in that location. Now, I had a chance to bring that vision to life.
This project has taught me many new skills. I've learned how to validate customer pain points, create a quality and convenient menu concept, hire and onboard employees, and manage a staff of paid students. I also had to train my entire staff, since no one had professional culinary experience beforehand.
In October, I became so dedicated to this venture that I decided to drop my additional major in computer science. That was a huge change for my college path, but even with the risks involved, I knew it was the right decision.
How can students grow their entrepreneurial skills at Capital Grains?
CMU Dining Services and Chartwells emphasized the importance of the academic component for this initiative. So I decided to cold-email 18 Tepper Business School professors to build an independent study program. We got a lot of positive feedback and eventually onboarded Professor Sunkee Lee, a professor of management and strategy. We work with him weekly to improve our management practices and strategic initiatives.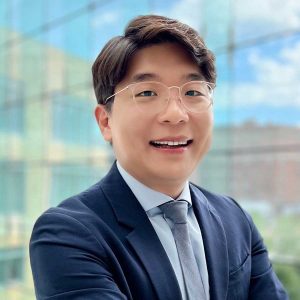 The restaurant also includes four executive board positions where students can grow their skills: a Chief Executive Officer, a Chief Operating Officer, a Chief Marketing Officer, and a Chief Financial Officer. Our board meets weekly to report on the past weekend's results, determine product improvements, and discuss strategies to maximize the value we can bring to the community.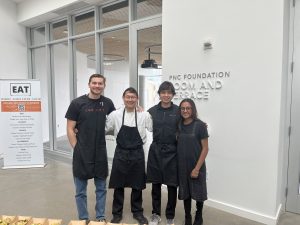 What will be on the menu at Capital Grains? Any stand-out items?
From the initial market research, I decided to focus on a grain and salad bowl concept. Many people wanted more variety and healthier options, especially for the weekend. I got a lot of feedback from vegetarian students discussing the lack of available vegetarian protein options. I also learned that on-campus residents, especially first-years, want to use their dining plans as much as possible.
In response to this feedback, we heavily emphasized vegetarian-friendly options without compromising quality or price. Altogether, we have five signature bowls and a create-your-own-bowl option. We feature three bases, ten toppings, chicken and tofu protein options, and four dressings.
We make the pesto vinaigrette and cilantro lime dressings from scratch, and I worked on my own blend of spices for the chicken seasoning and tofu seasoning. I developed the entire initial menu, and my executive team and I constantly update recipes in response to consumer feedback.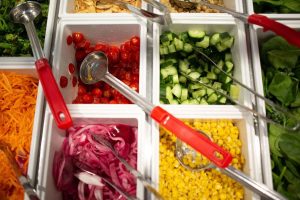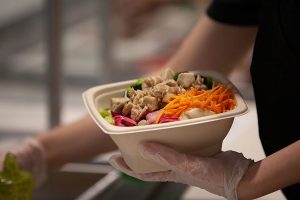 What's next for Capital Grains? What are you hoping to accomplish in the next few years?
I want Capital Grains to continue next semester and become a staple weekend eatery. I'm confident in my team's ability to maintain and grow the venture. Once operations stabilize, my next key project is to build out the system for the student-restaurant model so the next leadership team can easily continue operations.
My long-term academic goal for Capital Grains is to have the future student CEO use this project as their senior year business capstone. The student in this role would work in finance, operations, marketing, accounting, business communications, data analytics, and so much more.
I'm glad to see the continued support from the CMU Dining administration and hope to integrate this further into the academic curriculum at Tepper.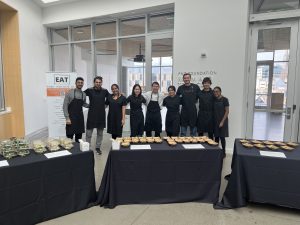 Is there anything else you'd like to add?
This venture is extremely unconventional, but I think that's what makes it such a great learning opportunity. Joe and Mike have allowed me to build out this student restaurant as I see fit, and I think that flexibility and ownership have been invaluable to the learning experience. They have continuously supported me in all areas and gone out of their way to ensure this project succeeds. I'm extremely grateful to both of them, their teams, and the entire CMU community for supporting this initiative.
On a personal level, I never expected to enjoy entrepreneurship so much. The uncertainty that comes from building a new initiative like this is nerve-wracking, but that uncertainty is also what makes this experience exciting, unforgettable, and real. This project has fundamentally changed how I view my future career goals, and I'm eager to apply the lessons learned and skills earned in other aspects of my life.
To read more about our partnership with Capital Grains, click here.