Chartwells Campuses Honor Black History Month
Our teams nationwide are uniting to honor Black History Month, a month dedicated to recognizing the contributions and achievements of people of the African Diaspora. Diversity is a lifelong commitment, and we are proud to encourage our teams to be active agents of change in the fight for a more inclusive world.
We're celebrating our people, educating students through inclusive programming, and recognizing the achievements of our teams who are at the forefront of driving equity and inclusion. Read more below!
---
A Special Chef Pop-Up | California State University, East Bay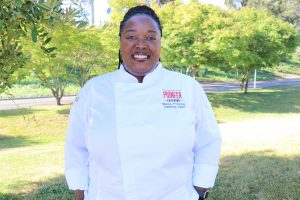 California State University, East Bay hosted a Teaching Kitchen and a Black History Month pop-up that were both smashing successes. Catering Chef, Mecca Freeman, led the Teaching Kitchen and demonstrated how to cook her favorite recipe for baked mac and cheese. She chatted with students about the inspiration behind the dish as well as her desire to become a chef.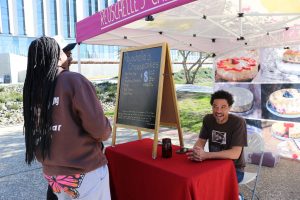 Just two days later, students had the opportunity to experience the first-ever Black History Month pop-up on their campus. The pop-up was a collaboration with the Black Student Union and included spoken word poetry, music, a dance performance, games, a photobooth, Black-owned vendors and products, and a special menu made by Chef Mecca. The event was a success as students lined up before the pop-up had even opened.
---
Ms. Willie Joyner | The Catholic University of America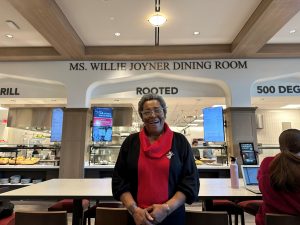 Life at The Catholic University of America has changed a lot over the last 50 years, but one thing hasn't. For over 5 decades, Ms. Willie Joyner has been a fixture of the university's dining halls. More than an associate, she is a source of comfort, smiles, hugs, and happiness to students as they go through the ups and downs of college life. Her kindness is an inspiration to students, and they describe her as a "national treasure."
Ms. Willie's impact has not gone unnoticed: the University recently honored her by naming a dining room in their brand-new dining hall after her. Her reputation has spread beyond the walls of The Catholic University of America as Food Management Magazine also declared her a 2020 Foodservice Hero of the Year. Ms. Willie's legacy is truly inspirational, and we are so proud to celebrate this true difference-maker.
To learn more about Ms. Willie's impact, click here to watch her interview on Fox News!
---
BLK & Bold | Northwestern University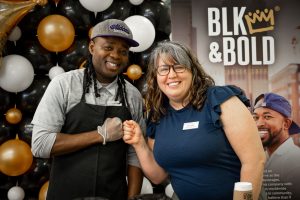 Northwestern University is committed to supporting minority-owned businesses, and they're following their mission with a new partnership. The university recently switched its dining hall coffee provider to BLK & Bold, the first nationally distributed, Black-owned coffee company in the country. BLK & Bold dedicates 5% of all profits to nonprofit youth organizations across the nation to help children get the resources they need for future success.
The partnership kicked off with a meet and greet from BLK & Bold co-founder Rod Johnson. Students gathered to hear the company's story, taste coffee, and receive samples from Johnson's "Recipes for Impact" cookbook.
---
Ms. Betty Davis | Queens University of Charlotte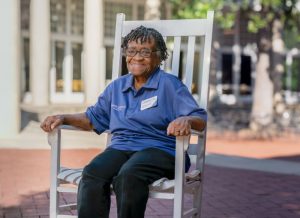 Even years after graduation, students from Queens University of Charlotte fondly remember Miss Betty Davis. For more than 60 years, she has served as a source of comfort for students – saying that her favorite part of her job is seeing her students, which she describes as her kids, growing and excelling in life.
Her kindness has left her mark on hundreds of students and associates, including former Queens University of Charlotte student and current Mayor, Vi Lyles, who declared a special Miss Betty Day on August 25th. The campus community gathered to commemorate her achievements as a warm, caring, and inspirational influence.
---
Curtis Hopkins and Bobbie Holloman | Louisiana State University
Chef Curtis Hopkins is helping the LSU Dining team become stronger and better every day. He brings over 10 years of experience in professional cooking to the Louisiana State University team as the sous chef at The 5. He developed a love of cooking after watching his grandmother cook, and now uses it to train associates and serve students high-quality, thoughtfully made food.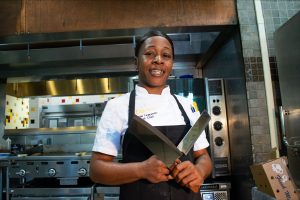 Students also had the chance to meet another pillar of the LSU Dining team, Chef Bobbie Holloman, when she took the spotlight with an Authentic Soul Food Pop-up in the student union. She treated students to delicious Southern-inspired comfort food and has been feeding students for years.
Ms. Betty | The Catholic University of America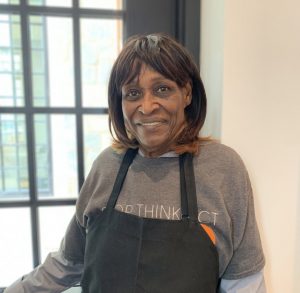 The dining halls at The Catholic University of America wouldn't be the same without Ms. Betty! As the prep chef, she makes sure that everything works smoothly behind the scenes so that our students always receive quality meals. She says that the students are her favorite part of working at Catholic, and she's always asking the students what food they like so she can make more of it.
Ms. Betty grew up in New Orleans, Louisiana, a unique, cross-cultural city that blends French, African, and American traditions. Even though she left 39 years ago, she's keeping NOLA traditions alive. Her birthday parties are always themed around Mardi Gras, and she taught her daughter to make one of her favorite dishes, red beans with rice. One day she'd love to bring a traditional Po Boy to campus and treat students to the flavors of New Orleans.
Gail Hill | California State University, San Bernardino
Our Marketing Manager, Gail Hill, got in front of the camera to share her story and her family recipe for rolls. Her recipe dates back five generations to the Depression era and is still used to make rolls every Thanksgiving and Christmas. Gail also discusses traditions, what Black History Month means to her, and how her family keeps their recipe alive.
---
At Chartwells Higher Education, diversity and equity remain our biggest guiding principles. During Black History Month, we're proud to highlight achievements and partnerships that represent the ways we advocate for our peers. By sharing the stories of our associates, we're building a culture where all of us have an equal seat at the table.
Keep an eye out as we share more stories throughout the month!