From Asian Inspired Turkey Burgers to Vegan Crab Cakes | Chartwells Chefs are Recognized for their Inspiring Creations
Every day our talented team of culinarians create new and exciting dishes for our guests and campus communities to enjoy. With delicious, seasonal, and high-quality ingredients top of mind, our passionate chefs take great care in developing delicious flavors; some of which have been recently recognized. Scroll down to view these award-winning creations:
Food Management Sandwich Awards 2021 + 2022
Each year Food Management recognizes the most creative sandwiches and burgers developed by the chefs across the foodservice management landscape. Our 2021 + 2022 winners include:
The Ray Ray | 

The University of Texas at Arlington
Ingredients: Chicken-fried oyster mushroom, vegan cheese, "Ray Ray sauce" (vegan chile con queso), spicy garlic truffle aioli, sunflower sprouts, fried kelp pickles, soft bun.
Why it's special: Not only does it contain intriguing ingredients, it's accompanied by local kombucha and an acai bowl. What a win for vegan sammies everywhere!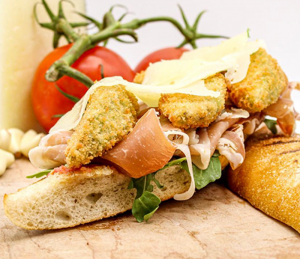 Bocadillo de Jamon Serrano y Queso con Tomate | 

Texas State University
Ingredients: Sliced jamon, arugula, fried avocados, garlic-tomato spread, baguette rubbed with fresh garlic and olive oil.
Why it's special: Authentic Spanish touches—grating fresh tomatoes, grilling bread until it's crisp and that oh-so-buttery Spanish ham.

Korean Flame Burger | 

Texas State University
Ingredients: Gochujang, pico de gallo, kimchi, fried onions, pepper jack cheese.
Why it's special: Tex-Mex-Korean fusion could be the next big thing if this burger is any indication. It's been the No. 1 burger at Texas State's new burger concept.
Red Rocks Asian Turkey Burger |

University of Utah
Ingredients: Housemade turkey burger seasoned with garlic, cilantro, mint, ginger, gluten-free soy, green onions, sambal and lime juice; slaw, Sriracha mayo.
Why it's special: This burger was developed to answer a request for a lighter burger in the sports grill concept, The Game. It's offered as a QR code-enabled made-to-order item elsewhere on campus.
*This burger is available at Food Management's Concept of the Year 2021, The Game