As we enter Pride Month, we are proud to recognize and celebrate the experiences and impact of our LGBTQ+ individuals in a welcoming and safe space. We continue to offer our platforms to our team members as they share their stories in their own unique voices.
Katie VanderStraaten-Bivens | General Manager of Dining Services at Olivet College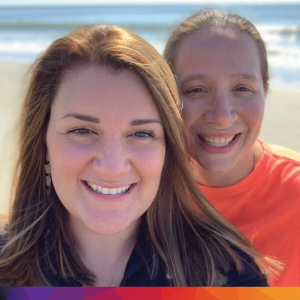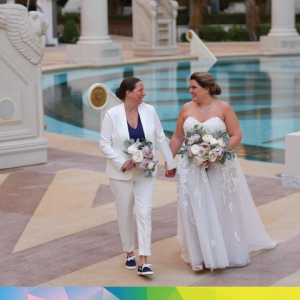 "I grew up in rural Southwest Michigan in a very loving home with my mom, dad, and sister. From a young age, my parents taught us to always do what's right and have a good work ethic, which I carry with me to this day. Unfortunately, when I was 15, my father passed away after suffering a heart attack, which forced me to grow up a little faster than planned. My mother really influenced me to work hard at whatever I do in life and is truly one of my biggest inspirations. She is one of the strongest people I've ever met.
Growing up, I played basketball and showed draft horses in 4-H.  When I was younger, my family housed exchange students from four different countries and over 20 baseball players from our local baseball team in town. It was amazing because it allowed my sister and I to meet so many people and learn about different cultures and ways of life. This inspired me to strive for a career where I could meet a lot of new and interesting individuals.
I started my career with Compass Group 12 years ago working for Morrison Community Living as a dining room manager and worked my way up to director in 2012. I made the switch to Chartwells Higher Ed in 2020, and I have loved every minute of it.
In 2021 I married the love of my life, Melissa, who also works for Compass Group and loves it just as much as I do! We enjoy traveling, taking care of our dogs, wine tasting, playing cards and being on the boat in the summer.
To me, PRIDE means being able to be myself in every facet of my life. Not everyone grows up in an inclusive family and is exposed to different ways of life, and I wish people knew that it's okay to ask questions about things you may not understand. I am so proud to work for a company who allows their team members to truly be themselves."
---
Sam Denton | Director of Dining Services: National Brands and Student Center at Eastern Michigan University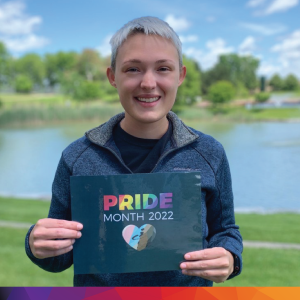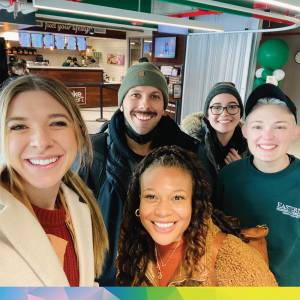 "I grew up in a village in Michigan with a graduating class of about 26 students. Usually, stories involving LGBTQ members and small towns are not the greatest, but my story is different. I came out to my family and friends when I was 16 years old and have only ever felt loved and supported by everyone. I was an active leader in many organizations at school, which helped me educate my peers about the LGBTQ community.
I came to Eastern Michigan University to pursue a Bachelor's in psychology in 2015. I chose Eastern Michigan because it was one of the most diverse campuses in Michigan and I wanted to explore a different culture than what I was used to in my hometown. My first job on campus was at the Student Center Food Court at Green Market Bistro. I fell in love with the atmosphere and comradery of Edining and became a student supervisor that next semester and never looked back.
I was given my first salaried role at Smashburger as the Assistant Director for the Student Center during my junior year. After my hard work and dedication, I was shortly promoted to Assistant Director of Chick-fil-A. After 2 years of proving myself during this journey, I was able to open another national brand on campus called Shake Smart and be promoted to Director of Dining Services. Recently, I have added the Student Center Food Court restaurants and Starbucks to my repertoire to become the Director of Dining Services: National Brands and Student Center.
I quickly figured out the variety of opportunities and knowledge available to me in Chartwells. Not only developing as a director but also as a person. I'm so grateful for the opportunities I have been given to meet people who are very different from me. I never knew what it felt like to be bullied or looked down on for being a member of the LGBTQ community, so I didn't really understand the concept of PRIDE. As a white cis woman, I am able to navigate society with fewer obstacles than my fellow LGBTQ peers. Learning about oppression, discrimination, and all the other negative things queer people go through really opened my eyes. It made me into an advocate for all of my friends to be able to be who they are."
---
Robert Stromquist | Director of Catering and Retail at Northwestern University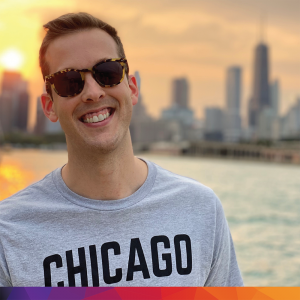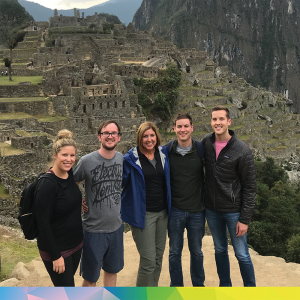 "Growing up in Kentucky, I was surrounded by a very supportive family that provided the foundation for how I live my life to this day. My parents have both been very influential in my upbringing and despite living across the country, I talk to them nearly every day. I aspire to be the same role models my parents were for me growing up.
I knew from very early on that I wanted to work in the hospitality industry. Spending summers with my sister as our babysitter (and having her famous grilled cheese for lunch every day – although delicious, was repetitive) I bought a cookbook at the local bookstore and began working my way through it. I figured out this was something I could do and was pretty good at it! From there I was hooked.
My career journey began while attending the University of Kentucky. In my sophomore year, I needed to complete an externship and reached out to a local caterer to see if I may be able to work with them. Fortunately, they had a spot and welcomed me to their team. On my first shift, I realized that catering was the best application of my passions for food, hospitality, and event design.
12 years later I have learned a lot, and I appreciate being able to pay it forward. For example, in catering it is easy to assume that when you receive a wedding inquiry it is going to involve a bride and a groom, however, this is not always the case. One way that I think others can be better allies and supporters of the LGBTQ+ community is to try not to assume pronouns when interacting with a prospective wedding client. In my experience, this makes LGBTQ+ couples feel more welcome.
Aside from my passion for cooking, I am an avid runner. I am fortunate to live near the Chicago lakefront trail, which I run nearly every day after work. I recently participated in the Run for the Lincoln Park Zoo 10k and have another race planned later this summer!
Pride is something that I am learning to celebrate. Despite being openly gay for several years, it is a daily journey to be comfortable and present my best self. Pride month is a yearly reminder of everyone in the LGBTQ+ community that has paved the way for me to live openly and honestly. It is also a reminder that we still have so much work to be done, especially for the rights of transgender people. I am proud to work for a company that recognizes and celebrates everyone as they are."
---
Michael Chapman | Marketing Intern at Missouri State University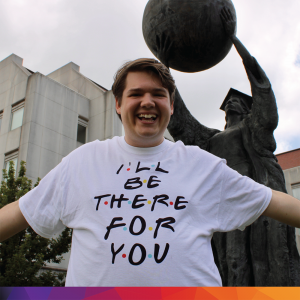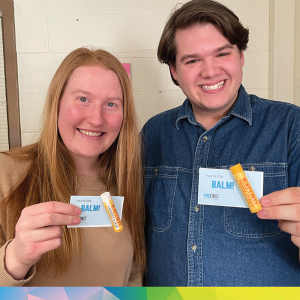 "I grew up in Kansas City, Missouri living with my mom, dad, and my dog Lilly. When I was younger, I kept my sexuality hidden because growing up in Missouri, those are things you just don't talk about. Unfortunately, I was outed as gay to my mom. I want to say, outing anyone is incredibly dangerous in any circumstance, however, I was lucky, and my mom has always been supportive of me. To this day, I still have not formally come out to all my family because I feel like I don't need to. If they find out, that's great, but I am proud of who I am.
I started my journey as a Marketing Intern with Chartwells Higher Education at Missouri State University in the summer of 2021. Since then, I have graduated and am finishing out my internship this summer. I am going off to Graduate School this fall and hope to find my way back to Chartwells soon after I complete my masters because of the love and acceptance I have found through my time with this company. In my free time, I like to go on walks, read, sing, play piano, scroll through Tik Tok, thrift, upcycle clothes, and go on spontaneous adventures.
Celebrating Pride to me means not stopping at reposting on social media. I like to go out and meet new people in my community. I make sure to learn about what is hindering our entire community from effective change and progress and how I can do my part to help. Pride means celebrating yourself but also celebrating those who risked their lives to celebrate and empower yours – Marsha P. Johnson, Sylvia Rivera, Harvey Milk, and more. You should know those names and their legacy if you are in the community or identify as an ally."