Celebrating Arab American Heritage Month
April is Arab American Heritage Month, a time to celebrate the rich and diverse cultures, traditions, and histories as well as acknowledge the important contributions of our Arab American communities.
This month, we interviewed a few of our team members and asked them about their experiences at Chartwells and what Arab American Heritage Month means to them. Their stories and videos are below.
Nagham Tahir | Central Division Chef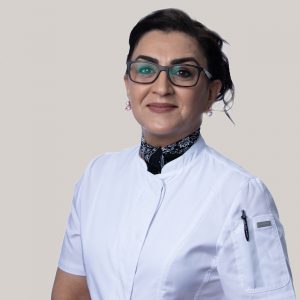 "I am the youngest of nine children born in South Lebanon to an agricultural engineer father and computer scientist mother. I was raised in a village of farming communities that helped polish my views of food and delicacy. We grew what we ate, and we ate what we harvested. It was simple, healthy, and very much sustainable.
Growing up, my mother was my greatest influence. Her passing left a great gap in my life at age 7, but it was also at that age when I cooked my first family meal. Ironically, as a child I did not care for food. It was my sister that used tactful methods of introducing foods to me as my mother did prior and both did it so sublime, I couldn't refuse. During these times growing up as a young orphan living in a war zone, my tenacious and ambitious spirit truly began to develop. Initially, I wanted to be a lawyer to fight the injustices I witnessed growing up, but ultimately, I chose to become a chef.
My degree in culinary science was the true reward of my studies, it led to a far more rewarding career path. It began as a favor where I filled in for a chef who worked for a royal family, and it grew into an opportunity to be an exclusive private chef, a minority businesswoman partner and private caterer. Now, cooking is therapeutic and it brings a tremendous amount of gratification and comfort to my soul.
My favorite food to eat is lamb and rice. Traditionally when we gather, we cook the meal in one very large pot and to serve it, we flip it upside down directly on the table. It's the shape of a large yellow cake made of saffron jeweled rice with vibrant aroma and plenty of lamb shanks. We wash our hands fold our sleeves and we gather around feasting and indulging in nostalgic children's stories and faint memories of when was the first time we had this meal or who cooked it best and who burnt it and so on and so on.
Being Arabic born Muslim and raised with what could be considered as "edgy standards" has been challenging to uphold or even practice privately. To many, Arabic culture was and still is the most inspiring yet daunting culture. Those who are not well-versed in Middle Eastern mentality may misunderstand it, but it's actually benevolent and peaceful. I want people to know that Arabic culture is at its core empowering, and the principles are well assumed."
April is Arab American Heritage Month, and we are proud to offer our platforms to our team members to share their stories in their own unique voices. Today, we are pleased to feature Nagham Tahir, Regional Culinary Chef in the Central Division.
#arabamericanheritagemonth
---
Mike Alkurdi | Senior Director of Operations at Barry University


"I was born in Hollywood, Florida to a Syrian family that emigrated to the United States in the late 70s escaping poverty, dictatorship, and pursuing the American dream. I have a beautiful family that I'm extremely proud of. My wonderful and supportive wife – is also my college sweetheart. Julia, my oldest daughter, and a mini-me, Jad, my second child, and the newest addition, Joad, is only six weeks old.
My parents moved back to Syria when I was 7 years old, where I was raised and educated. The interest and passion Syrians have for their food is second to none. This love stems from their customs and traditions, which are founded on the concepts of generosity and honoring their guests – what better way to honor a guest than by overwhelming them with food?"
---
Sanaa Alkhatib | Catering Manager at UNC Charlotte
"I was born in Jordan and I come from a large family. I studied business management at the University of Jordan. After that, I emigrated to the United States. One tradition that has always been close to my heart is that my family meets at our family house once a week. Everyone comes over – no matter what. This tradition has been going on for many many years.
I was influenced by my mom who always set the example for me and my brothers and sisters. She raised us to be who we are today, and I owe it to her for everything that I have accomplished in my life. It was her guidance, advice, and prayers that helped me along the way."