Photogenic Food Takes Stage at Canisius College
Canisius students recently zoomed in their camera lenses for a special "lighting techniques" class. Set in the dining hall, Chartwells partnered with Canisius' Photography Instructor Tom Wolf for a photo session where meatball bombers, vegan crab cakes, broccoli alfredo and chicken teriyaki sandwiches became their focal points. Along with well-appointed entrées, there were creative props to add and role-playing opportunities.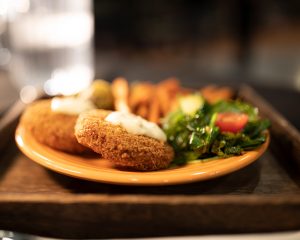 Chartwells Marketing Director Sharif Hamdy transformed himself into the client, directing students about what a business owner's expectations would be for well-lit food images. Students gained a different perspective about the appetizing subject matter while developing new photography skills.